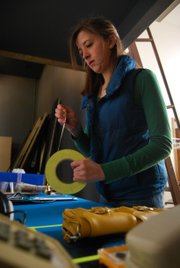 College students dream of the day they get to start their lives in the professional field of their choice, but sophomore Kari Hilmes already is getting a second go-around of that dream this summer.
Her field choice: theater.
Hilmes will be hitting the stage at Brownville Village Theater, a Summer Stock repertory theater in Brownville, Neb.
The theater produces five shows during the course of the summer, and Hilmes will be acting in three of those shows.
She also will act as the company prop master for all five shows.
"I'm nervous because it's very intense. It wipes out my entire summer," she said. "It's May 22 through Aug. 18."
Hilmes got her first taste of professional theater last summer while working with Gypsy Theater Company from New York City.
The group toured around the Midwest for the entire summer.
Hilmes said she enjoyed her first professional experience and was ready for another.
Hilmes auditioned in January for Brownville Village Theater during the American Collegiate Theater Festival.
She received word Feb. 1 that the company had hired her, and she received her scripts Tuesday.
"We have to come prepared (May 22) with all of our lines memorized and then we go through two weeks of rehearsal and then open all five shows at once, so it's very time demanding," Hilmes said. "But, it's a great way to jump into the field. If you can survive Summer Stock theater, you know you can handle working in any equity house where there's just one show at a time."
Hilmes will play a maid named Penelope in a comedy called "Wake Up Darling," a murderer named Stella in "The Uninvited" and a wife named Eve in "Holiday Snap" while working at Brownville Village Theater.
Junior Justin Whittaker, who's worked with Hilmes in Baker's theater, said she is deserving of this experience.
"She's a hard worker, and she's always very reliable and everything," he said. "I think it will be a good learning experience and a lot of fun."
Sophomore Courtney West, who also has worked with Hilmes, said she is deserving of the job.
"It's great that she gets to do something over the summer that she gets paid for and really enjoys," West said.
As for Hilmes, she's looking forward to the experience, but will miss out on family time and her younger brother's high school graduation.
"I was debating whether or not to take this job because I wanted to spend time with my family," she said. "But they're kind of the ones who encouraged me to do it because this, theater, is what I want to do with my life."