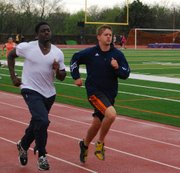 The Baker University women's track and field team dominated Friday at the Central Methodist University-Asics Invitational.
"Taking first overall against several conference schools is a good sign that shows we will be strong in the next couple of weeks," senior Katey Wegemer said.
The women's 4x100-meter and 4x400-meter relay teams were able to place first in Fayette, Mo.
Wegemer said the team continues to improve and may be the result of tremendous team chemistry.
"We are all fortunate enough to have had the same three out of four athletes on the same team for the past three years," Wegemer said. "We've gotten comfortable enough that we can gauge, and we know how each of us are feeling that day and that's been really helpful."
Senior Chelsey Ornburn also contributed to the win by placing first in the women's pole vault with a jump of 3.33 meters.
"I didn't qualify for nationals but that would have made the day better," Ornburn said.
Ornburn is looking to qualify for nationals within the last five weeks of the outdoor season.

Also making the list of event winners were juniors Kelsey Heckathorne and Brian Korn.
Heckathorne sprinted her way to first in the 200-meter dash and Korn once again won the shot put event. Freshman J.L. Anderson also won the men's 400-meter hurdles.
A handful of athletes have been competing in the University of Kansas Relays since Wednesday and will continue to compete through Saturday.
This is the first time Ornburn has competed at KU Relays.
"I think it's a privilege even to qualify to compete at KU Relays because it's a huge meet in the Midwest," Ornburn said Tuesday. "The fact that I finally qualified for KU Relays feels really good, and I hope I can jump well this weekend."
Junior Aaron Hannon also will join the group at KU Relays, competing in the 4x100- and 4x400-meter relays as well as the sprint medley relay.
"I've been going there since high school, and it's always been a really big, exciting event because there are usually a lot of big-time athletes and Division I schools competing and it's always fun to watch," Hannon said.
Hannon said he hopes to qualify for nationals in the 4x100-meter relay.