Thursday, February 19, 2009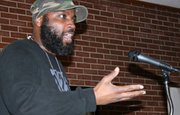 February is known as the month of love and black history.
These two ideas became one focus Sunday as Baker students had the opportunity to share their love of poetry and Black History Month at the third annual Open Mic Night.
Mungano and the office of multicultural affairs co-sponsored the event in relation to Black History Month.
Poet Jamele "Harlym 1Two5" Adams hosted the event for the second time.
http://www.bakeru.edu/orangeline/audio/poetry.mp3
Listen to audio of sophomore Aaron Schopper performing his original poem "That Guy."
In addition to reading some of his latest poems, he provided the audience with black history facts.
Director of Multicultural Affairs Ron Holden said one of the ideas Adams expressed several times throughout the event is that it's not just black history, it's everyone's history.
Adams said a big source of inspiration for his poetry is trying to bring people together and getting the opportunity to promote justice and equality.
Some of his poems also center around life experiences.
Students were encouraged to read poems that had special meaning to them and a few also shared some of their own pieces.
Freshman Alyse Cook read two Phillis Wheatley poems that really touched her heart.
Sophomore Aaron Schopper performed two of his original poems, "Wanting" and "That Guy."
Schopper gets the inspiration for his poems from things he's learned from life and through changes people have inspired in him.
The last poem read was "I am Black History," which was written by those who attended Open Mic Night.
People had the opportunity to write a line using whichever style they chose, and it was recited to close the show.
Holden said even after the event was over, students still were coming up to the microphone, and many expressed wishes to do it again.
"That's the kind of thing you hope for, that even after the formal event is over, students are still having fun," Holden said.
Cook, like many students, enjoyed the entire night, from the facts to the different poetry presented.
"It's another great activity Baker should continue," Cook said.
Schopper said it's good Baker is willing to let students who aren't used to doing poetry show their individuality.