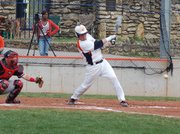 The Baker University baseball team has not only won four of its last five games, but has moved up to fourth place in the HAAC standings at 9-6.
The 'Cats defeated Evangel University Wednesday 4-1 with the help of sophomore Chris Cummins. The HAAC Pitcher of the Week improved to 4-0 on the season after pitching a complete game.
"I felt really good and I just feel good that I can give my team the opportunity to win," Cummins said. "Anytime that I start, that's what I look to do."
Sophomore Joey Orozco led the BU offense with two of the team's four RBIs, and senior Dustin Moomau and sophomore Steven Stewart tallied two hits each. Game two of the double header was postponed to a later date due to inclement weather.
BU will begin a new series against No. 22 Avila University at 1 p.m. Saturday at Sauder Field.
"They are stacked all around so we're going to have to bring our A-game for sure," junior Brandon Truitt said.