Thursday, August 25, 2011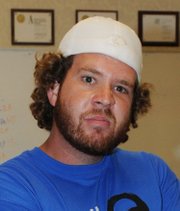 The first football game of the season is Saturday against Ottawa. What all have you been doing in practice to prepare for the beginning of the season?
All summer I've been getting together with my punter, (senior) Garrett Chumley, and we've been getting together to do workouts once a week with snapping and kicking. We've been working a lot in practice with the new kickers and getting the chemistry down with them.
You and Chumley went to a summer special teams camp as well. Where was the camp and what all did you do or learn?
We went to a professional development camp run by Gary Zauner. He's the guy to go to for special teams. He used to coach in the NFL with the Ravens, Cardinals and Vikings. It was a big camp with a bunch of college snappers and punters. I remember working with a guy from like Michigan State and competing against them and a guy from Houston also. It was in Milwaukee and it was a three-day camp.
The Baker special teams unit has gone global with its own twitter account. What are your favorite things about the account?
The BU special teams account is just a lot of fun. We try to do some goofy things. Me and Chumley both have long hair and do #longhairdontcare tweets or talk about hair products. It's also fun to interact with fans a little bit. I've put up polls and stuff about what kind of facial hair I should use for the spring game and they all voted.
You and Chumley also sport some of the most unique hairstyles on the team. How long has it been since either one of you have cut your hair and do you plan on growing your hair out throughout the season?
I haven't got a haircut since, I think, October. Chumley, he's always had his kind of long, so he gets it trimmed every now and then to make it grow faster. We plan on growing it out through the season. Growing out your hair is a lot of hard work. People always come up to me and say, 'you need to cut your hair.' I'm like, 'you need to mind your own business because this is a lot of work and you need to acknowledge the beauty.'
This is your fourth year as the starting long snapper. Do you plan on attempting to long snap professionally like Baker alum and New York Jets long snapper Tanner Purdum?
I try not to put my goals out there too far publicly, but it is definitely in the back of my mind. I had to put on a bunch of weight this season to get scouts looking at me. We've had some teams ask for film. One of the reasons we went to those camps was to get our names out there and live the dream Tanner Purdum's living right now.