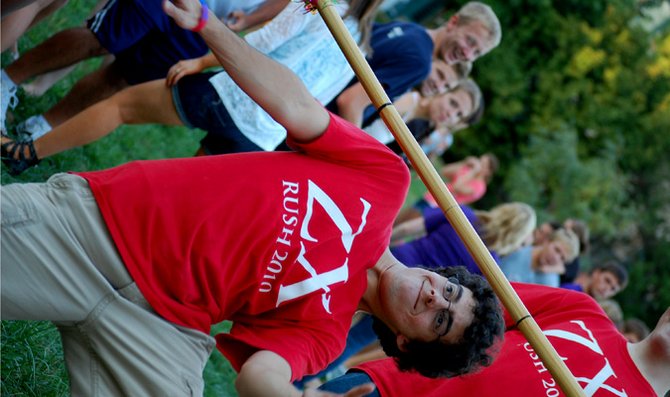 Thursday, August 25, 2011
Baker and Zeta Tau Alpha sorority alumna Jennifer Letner has returned to the university as the Fraternity and Sorority Life Coordinator.
As the new coordinator, Letner is hoping to be a direct contact for those with direct greek life concerns.
Letner said one of the main changes she wants to make for the year is to work together better with the athletic department. She wants to be a liaison between coaches and greek members when any issues arise to help more student-athletes be able to participate in greek life rather than having to choose between the two.
"Everything that you enjoy should still fit into your life, so that's going to be a priority for me," Letner said.
Baker's Interfraternal Council and Panhellenic Council also have separate goals for both recruitment and greek life this school year.
"IFC's goal this year is to be more of a presence on campus and to be more active in the greek life system than we have been in the past," IFC President Bryce Bowers said.
While members of IFC have goals for the rest of the year, they have spent the first week of the new school year focusing on recruitment.
"Our goal this recruitment is to make it as easy and laid-back as possible so that the new members can see the fraternities at their best and see how they are when they're all working together and chilling out, because that's kind of what you do during the school year anyways," Bowers said
There haven't been many changes to the men's recruitment process this year.
"We found a process that works. It worked wonderfully last year so we kept it for this year," Bowers said.
This past week, potential new members have been participating in greek life formal recruitment. While not much has changed for fraternity recruitment, Panhellenic had to make some changes because of the closing of the Zeta Alpha chapter of Phi Mu last spring.
This year, sorority recruitment consisted of house tours, philanthropy night, skit night and preference night.
Seventy-nine women were registered for recruitment, when the deadline closed Tuesday at noon.
"Even though we are very sad to lose (Phi Mu) on our campus, and we really hope that we'll get the admission numbers to bring them back, it should boost numbers for the rest of the (chapters) this year," Letner said.
Panhellenic President Erica Vest hopes to promote greek unity this year. She said that along with unity dinners where sororities mingle and eat together, Panhellenic wants to have more all-greek social functions.
"I think right now our greek community is going through a huge change and we have to look at it as we are one," Vest said. "We all saw how one thing can affect our entire community."