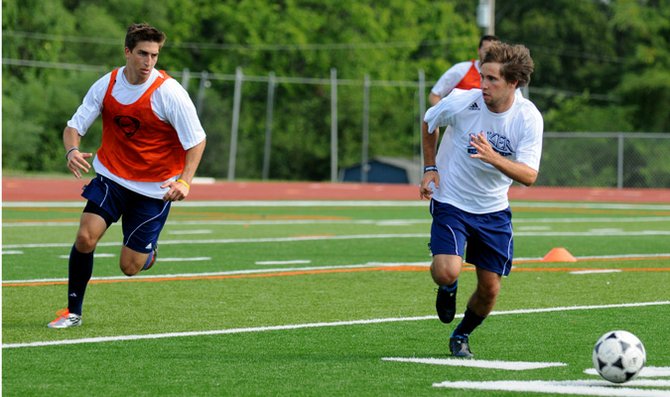 Thursday, August 25, 2011
The Baker University men's soccer team is changing things up for the start of the 2011 season.
The team has most recently traveled to Oklahoma City to kick off the season, but this year chose to travel to Salt Lake City instead.
"Basically, it was an economic decision," head coach Nate Houser said. "(Westminster) paying basically for our trip."
Baker will play Westminster College at 4 p.m. today and Rocky Mountain College at 4 p.m. Saturday at Dumke Field.
The level of competition the Wildcat's will encounter will be high. Westminster was 9-9-1 last season, as well as 7-2 at home. Rocky Mountain College finished the season 9-7.
"Anytime we can save money and go play quality teams, we like to," Houser said. "It's a blend of mid-western hard work and a little California talent out there in Utah. Westminster's been a very good school on the men's side and a perennial top 20 team and then Rocky Mountain has proven to be very good as well."
The anticipation of a change of scenery is being felt by the players, too.
"Everyone's excited to be traveling so far and go somewhere new," senior Nick Ebmeyer said. "At the same time in the back of our mind we're all kind of dreading the fact. I think we're driving, so that's a day of driving in a bus."
Ebmeyer knows that, despite the long trek to Salt Lake City, the coaches will make sure the team is ready to go when game time comes around.
"I think we're actually going to go ahead and stop somewhere halfway and have a little practice," Ebmeyer said. "We still should be able to play the way we want to."
Because Salt Lake City is so far away, there will also be ample time for team bonding during the trip.
"You're on a bus with people for a long time," senior Tom Lowndes said. "You can have bit of a laugh, bit of a joke."
The 'Cats did lose two key contributors from last season, goalie Alex Burton and four year starting defender Matt Griffin. Although the players were an important loss for the 'Cats, Houser is confident in the depth of his team.
"I don't know if you can replace a Matt Griffin, but can you find somebody else who brings those qualities," Houser said. "It's who can kind of filter themselves out."
Houser said the most important thing for the team to do is to continue to grow as a unit.
"We need to understand what team really means," Houser said. "As soon as we figure that out, I like our chances."
The Wildcats will return from the trip to Salt Lake City to play Park University at 7 p.m. next Friday in Parkville, Mo. and then play their home opener against Columbia College at 7 p.m. Sept. 3 at Liston Stadium.