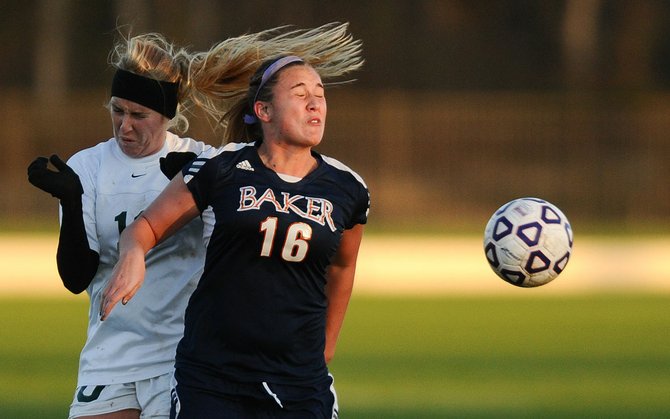 Thursday, December 1, 2011
Photo Gallery
Women's Soccer v. Point Loma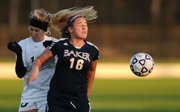 The road to the NAIA National Championship game ended for the Baker University women's soccer team Wednesday after being defeated by Point Loma Nazarene University. Photos by Gary Crosby Jr./Decatur Daily
The road to the NAIA National Championship game ended for the Baker University women's soccer team Wednesday after being defeated by Point Loma Nazarene University.
"We felt confident and we wanted to win," freshman Shelby Schiraldi said. "We wanted to play the game and get the win. It didn't turn out in our favor, but we still had fun and still played hard."
The game went scoreless during the first half, but Point Loma Nazarene scored first with a goal in the final six minutes of regulation.
The Wildcats were quick to answer with a goal from Baker Orange staff member Jordan Dolbin less than three minutes later.
"We just knew that we had to give everything we got because we knew one goal could determine if we would win or lose," senior Breana Hoener said.
The teams played two rounds of overtime before moving on to a penalty kick shootout.
"We fought for the whole 90 minutes and the whole two overtimes," senior Ashley Ukena said.
Senior Maggie Dupes, who was sidelined in the opening round of the tournament due to a concussion, played goalkeeper for the 'Cats.
"We all had a lot of faith in Maggie," Schiraldi said. "The other team's penalty kicks were just phenomenal, and even for a great goalie like (Dupes), they were hard to save."
Dolbin was the only Wildcat to score in the shootout while Point Loma made all four of their shots, bringing the shootout score to 4-1 and sending Point Loma on to the semifinals.
"Even though it didn't turn out in our favor, we still had a lot of fun on the journey," Schiraldi said. "I'm excited for our future seasons as a team together. Hopefully we can make it back."
For the seniors on the team, however, their soccer careers ended at the tournament in Decatur, Ala.
"You would rather have your last game at the national tournament than during the regular season," Ukena said. "I'm proud, and I'm thankful, for the season we've had."
Hoener is proud, too, and said this was probably her favorite year of soccer at Baker.
"It's still unreal to me that my college career is over," Hoener said. "It is kind of upsetting, but we had such a good season this year and last year."
The team finished out the season with a 15-4-1 record and a HAAC championship.
"You had to be proud of your team and yourself, too, because we made it further than most teams have ever made it before," Ukena said.