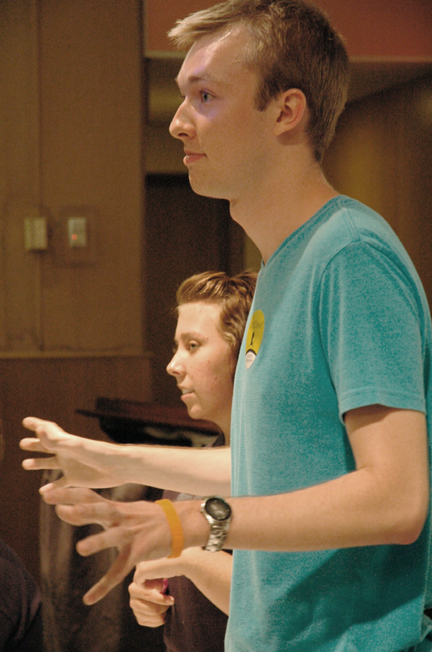 Sophomore Warren Swenson never imagined his second year at Baker University to be the way it was.
He never thought it would be filled with committee meetings, listening to students' opinions, the countless emails he would receive each day from faculty, staff and students or spending long hours preparing for Baker University Student Senate meetings.
He never pictured himself as student senate president when he started at Baker.
 "I think this is the first thing in my life, the first leadership position that I've truly taken on out of a passion to make something better, and that's my motivation," Swenson said.  
Swenson was minding his own business at a student senate meeting in April, 2010 where Patti Greenbaum, alumnae and former senate president, talked to the representatives about running for executive offices.
It was during that meeting that Dean of Students Cassy Bailey leaned over to Swenson and encouraged him to run for a position.
"I hadn't thought about running," Swenson said. "… (Bailey) said, 'I'm just thinking you would be great is all.' So, I think that's what I asked her next, 'What do you think I should run for?' And she just kind of gives me this look like, 'Well, it might be clear.'"
After that meeting, Swenson continued his conversation with Bailey about running for an executive position.
"I don't think I started to take myself seriously until after she said, 'Warren, you could do it just as well as anyone could. Couldn't you?' And, that sort of got me thinking, well, maybe I could," Swenson said. "And, the decision happened pretty fast. It didn't happen that night, but it happened pretty fast. But you know, I could run for (vice president), but why not go all the way? If I'm passionate about it, if I've grown to love (senate), and I want to see it succeed and there is a need for that good leadership, why not?"
The words 'why not' were all it took to put the bug in Swenson's ear.
He had made the decision to run for the student senate president position at Baker University.
Traditionally, the student senate president at Baker has been an upperclassman, a male and a member of a greek organization.
Bailey said while there is a sense of maturity and a sense of how the university works when a student is an upperclassman, underclassmen are still able to serve in leadership roles.
"(The president should be) able to be very balanced in their approach, so taking all perspectives into thought," Bailey said. "Always representing the student body in a way that is ethical, respectful and a sense of maturity and a sense of what it means to be a Baker student and the values of Baker University."
Administrative Assistant Myra Glover worked closely with student senate presidents for 10 years when she worked in the student development office. She said a number of qualities exist that make a senate president at Baker successful.
"It would be that one that understands balance between passion and issues that are valid," Glover said. "That does listen to all students, and that have to have a lot of common sense. … The most successful one is the one with the communication skills, that thinks before they speak."
The student senate president also has a close relationship with the university president and the dean of students.
"I have had some student senate presidents that are very independent, and our relationship is very much a quick touch base; dealing only with issues of policy and constitution," Bailey said. "I've also had very personal relationships with the student body president, where we've touched based on policy and constitution. But it goes further into leadership development, their vocation and sometimes I'm lucky if it ends in friendship."
Bailey said being the student senate president is a tough job for any student to take on.
"As a representative of the student body, (he or she) wants to come across as prepared and knowledgeable about the topics," Bailey said. "That might mean doing some extra research at times. It might not be exactly what's on (his or her) calendar at the time, but it's all that (he or she) does to be the representative of the student body."
While Swenson served as the president as a sophomore, a number of his predecessors, like alumnus Ryan Boyer, served as the senate president as upperclassmen.
Boyer served as the student senate president for two years, as a junior and a senior, during the 2005-2006 and 2006-2007 school years.
Boyer was involved in student senate starting his freshman year, where he served as the freshman class president.
"I was a little bit hesitant at first about being class president because I didn't know these people," Boyer said. "I didn't know what to do, and so I just went around and started talking to people."
Boyer served as the president during Dan Lambert's last year as Baker University President and during University President Pat Long's first year.
Boyer said he was also the eighth or ninth consecutive student senate president who was a member of Kappa Sigma fraternity.
"It gave me a really great resource there to have somebody that already served or have a network of past student body presidents to say, 'You need to do this or you need to do that,'" Boyer said.
Swenson knew he was going to be a young senate president, one of the youngest Baker had seen in at least 15 years. During the days after his conversation with Bailey about running for president, he asked himself if his age would be a hindrance.
"My initial thought that night was that I was too young," he said. "And then I thought, 'If I think that, am I doing a disservice to myself? Am I doing a disservice to any change I could bring?'"
 One thing is clear for Swenson. He did not seek a second term as the student senate president.
"I feel really good about what we've gotten accomplished, and I'm so thankful that I was able to do this," Swenson said. "... There is a hook in me that doesn't want to let go. Student senate was a fisherman that caught me."
The decision to not run again was a heavy one that Swenson made at the end of March.
"I thought about it a lot. I think focusing on schoolwork and focusing on other experiences will benefit me," he said.
On April 19, sophomore Caleb Watts was named the student senate president for the 2011-2012 school year.
Swenson advised Watts to take time for himself, away from senate responsibilities.
"You have to set those boundaries so you can't always be on," Swenson said. "You have to have time for yourself and you have to have time for your studies … or to hang out with friends."
As Swenson's time as the student senate president draws to a close, he is excited about the possibility of serving the university in different facets.
"I want to make a difference in at least one person's life …" Swenson said. "Which I know is so cliché … and I don't love coming off that way. But I've always envisioned myself helping people. But, I don't know how I'm going to do that. I hope I've done that this year. It's one of the reasons I wanted to do it … it's what I always try to do."