Thursday, November 3, 2011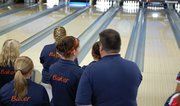 The Baker University bowling team will have a month off after finishing fifth in the Sunflower Classic on Saturday and Sunday at Royal Crest Lanes in Lawrence.
"Although we need to work on spare shooting, the team is getting better," head coach Cheryl Keslar said. "When you compare us to other schools like the No. 1 Wichita State, it wouldn't be comparing apples to apples."
The team has an average of 48 percent spare shooting this season.
"We are getting there," Keslar said. "This year's 48 percent is much better than last year's 38 percent. We have improved a lot since last season."
The team also improved its performance from Saturday to Sunday.
"The team out-bowled everyone in the last game of the tournament to move to fifth place," Keslar said. "I'm very proud of the (women) and the progress they have made. Hard work pays off."
The team as a whole had an average score of 160 for the tournament.
Although not all of the team bowled in the tournament, each of the bowlers supported the team regardless of if they were competing.
"The women that were not participating showed up to support the team,"Keslar said. "I know how hard that is to show up to tournament that you want to participate in but just be cheering. I honor the support they gave their team. (Sophomore) Xiomara Nunez even called from a media conference in Orlando to see how the team was doing during the tournament."
The team can only have five bowlers compete in each tournament.
"Overall the weekend was positive, even though it wasn't our best tournament, because we did a lot of growing as a team," sophomore Emily Buhler said. "We are looking forward to December."
After tournaments in Wichita and Lawrence, the Wildcats will not compete in the state of Kansas for the rest of the season.
The bowling team will be back in action with the Leatherneck Classic Dec. 4-5 in Milan, Ill. and in the Las Vegas Invitational Dec. 20-21 in Las Vegas.
"We have all improved a lot and (the team) is stronger than it's ever been and we'll go farther than we ever have and none of us gave up," sophomore Brittany Barker said. "We'll be ready for December."
The team will use the month off to improve on spare shooting and get ready for the tournaments in December.
"The break will make us stronger for the tournaments," junior Chloe Mercer said.
During the month off the team will participate in a few minor tournaments.
Barker said the time off from major tournaments will do the team good because the team can focus on improving.