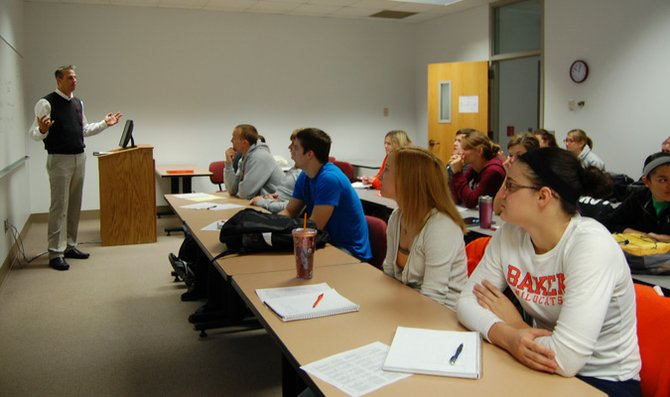 Thursday, November 3, 2011
Baker University's new liberal studies salon classes are designed to help students develop their skills and values.
Each salon class is required to do some sort of community service project, but this semester, one salon class is working to improve its interpersonal abilities and help struggling area families pay their utility bills.
Freshman Jacob Mogle said the freshmen in the salon class, "Etiquette in the Real World," wanted to do a community service project that would help the underprivileged of the Baldwin City area.
"The particular issue our salon class feels strongly about is the fact that people in the community will not be able to pay the rising cost of their utility bills this winter," Mogle said. "As a salon class, we want to do our part to help local people keep their water on and stay warm this winter."
The money raised will go to the United Way of Douglas County.
Freshman Katelyn Morris said the group has already raised $200 from setting up a donation booth at the homecoming football game.
It plans to have a booth at home games for all Baker sports.
Volunteers from the class will be helping at a silent auction Friday from 11 a.m. to 1 p.m. in Harter Union Lobby, which will benefit the United Way of Douglas County.
The class is also working with Hollywood Theaters in Lawrence in hopes to host a movie night, and the class is discussing fundraisers with local restaurants.
Salon Instructor Matt Windle said the project helps the students practice skills they learn in class.
"Something we talk about is social media, the proper way to use social media," Windle said. "They've created a Facebook page and they're learning, hopefully, good ways to use something like Facebook … With etiquette, we talked about interview skills, things like that, so they got to put those into practice. So, yeah, it ties in quite a bit. Plus, you know, asking for money and things like that is not always the easiest thing."
By the end of the semester, the group hopes to raise $1,000.
"Students used to stand outside dorms and buildings and protest because they wanted to be part of something," Morris said. "Everyone wants be part of something bigger, and by donating to...the United Way, you can be part of a bigger cause that's also a good cause."