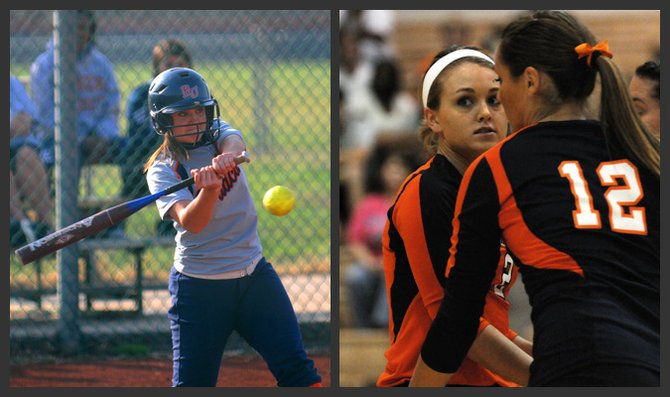 Thursday, November 3, 2011
Every athlete puts in hours upon hours of hard work in order to succeed at his or her respective sport. Once a season is over, most athletes have an opportunity to recover before preparing for his or her next season, but there are some athletes who have no offseason.
At Baker University, many athletes do not have the luxury of an offseason to rest their bodies because they play more than one sport.
"I think it is even more challenging for dual-sport athletes to manage their time because with a college athlete these days, there is not just a season," Athletic Director Theresa Yetmar said. "There is a preseason, a midseason and a postseason. So, balancing the requirements for the two sports they are in, I think, takes a lot of dedication and a lot of pre-planning to make sure they know their responsibilities."
Yetmar said there are 46 athletes who play more than one sport at BU. Twenty-four of the 46 athletes compete year-round because they run cross country and indoor and outdoor track.
While the routines in practice primarily stay the same for the runners from season to season, other dual-sport athletes have the challenge of getting themselves into a different physical condition.
Freshman Nick Wilson, who is a placekicker on the football team and a forward on the basketball team, must balance his practice schedule for the final weeks of football season as well as the beginning of basketball season.
"Really the main thing is being able to manage my time to where I can be able to go to both sports," Wilson said. "Managing my time and getting there and just working really hard when I am in practice, for whichever practice it is."
With his 6-foot 7-inch, 220-pound frame, his body is better suited to be a player in the post for basketball, but Wilson equally enjoys his position as a placekicker on the football team.
"I love football just as much as basketball," Wilson said.
While this is the first year at Baker for Wilson as a dual-sport athlete, senior Brooke Allen is in the middle of her fourth year of being on the volleyball and softball teams.
"It's a lot of hard work and it's very time consuming, but I understand what I need to put into both sports to help my team excel, but yeah, I'm pretty comfortable, and I know the routine," Allen said. "Once volleyball season is over, which is hopefully not for a while if we make it to nationals, I'll jump into softball workouts. My coaches are really good about helping me through the transitions in each sport."
With the success Allen has had on the volleyball court and the softball field, she believes it is well worth it to put in the work in order to help the teams reach their potentials.
"Coming into my senior year, I'm putting in the effort and work ethic, but I'm also putting in a leadership role because I want the team to be the best that it can," Allen said.