Thursday, November 3, 2011
Photo Gallery
Baker Wrestling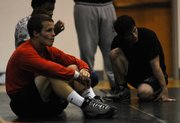 The season for the Baker University wrestling team is fast approaching and practice has become back to normal for the team.
Baker University wrestlers will take to the mats for the first tournament of the season at 9 a.m. Sunday in Collins Center for the third annual Dan Harris Open.
"We're taking it day by day, so (for) these early season tournaments, we're trying to develop our team and find out (which) kids are who are doing well and pushing their self," head wrestling coach Jimmy May said.
With 14 teams from various school divisions from Kansas, Oklahoma, Arkansas, Georgia and Texas competing, May and assistant wrestling coach Levi Calhoun are hoping for some Baker wrestlers to qualify for the national tournament.
May is also interested in seeing younger men on the team perform in their first college tournament.
With the team ranked No. 15, May's next goal for the team is to be ranked in the top 10.
"I like where we're at for a third-year program," Calhoun said. "The best thing about it is (that) we get to go to the national duels up in Springfield, Ill., so that's going to be a good experience for everybody."