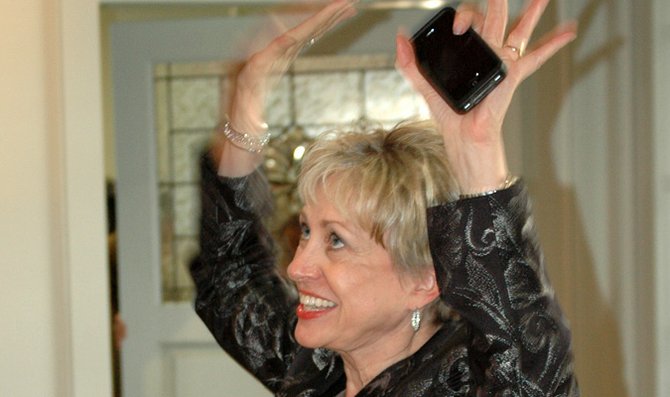 Wednesday, November 9, 2011
Audio clip
University President Pat Long discusses accreditation
University President Pat Long had a big smile on her face and danced around the banquet hall inside Collins House Nov. 9 to the tune of "Party in the USA" by Miley Cyrus.
Long and members of the Baker community celebrated Wednesday after receiving the initial report from Marie Giacomelli, who was the team chair of the peer review board for the Higher Learning Commission.
Giacomelli and four colleagues from around the country were on campus Monday, Tuesday and Wednesday as part of a site visit that is part of the accreditation process Baker University went through.
Giacomelli announced Wednesday that Baker University should receive "continuing accreditation for a period of 10 years."
"I had told everybody it was going to be 10 … I knew that we were going to get long term accreditation, or I felt like we were. But I also thought seven or eight, especially with the new accreditation process," Long said. "So, when (Giacomelli) said 10, she looked at me and I just said, 'thank you very much.'"
While the university did receive 10 years of accreditation, there are steps that have to be taken before it is official, including a focus visit in three years.
"What they want, and what they put teeth around," Long said, "is to make sure that, because we've just started the strategic planning process, we've just had two years of financial stability, so we're still on that up climb … to continue to do what we're already doing."
During the accreditation visit, Giacomelli and the four members of the peer review team met for two and a half days with students, faculty and staff across the university to really understand the culture of Baker.
During her report, Giacomelli listed multiple strengths the university has, including the Student Academic Success department, the culture of the School of
Professional and Graduate Studies and the School of Education and the School of Nursing.
"The School of Education and the School of Nursing have fully developed systems of assessments, which, we judge to be, actually, best practices in higher education," she said.
Giacomelli also listed several areas that need institutional attention within the university, including internal communication, which she stressed was hard for any university to do well.
Giacomelli also said the faculty governance structure does not align with the idea of 'One Baker.'
"The present faculty governance structures do not appear well with the 'One Baker' concept," she said. "So, that's something that the institution needs to be exploring about 'where do we go from here?'"
While a majority of the visit on campus was rainy, cold and wet, Long is pleased with the outcome of the visit and the preliminary report.
"It is amazing," Long said. "We were joking (Wednesday) when (Giacomelli) talked to me ... I said 'Well, we got sunshine.' She said 'Couldn't you have done this two days earlier?' But now we have sunshine and that's the way it felt today. It just felt like sunshine today."