Thursday, November 10, 2011
Photo Gallery
Men's basketball vs. Friends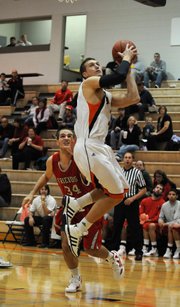 Baker moved to 3-0 on the season after the first home game of the season, a 76-65 win over Friends University.
Past Event
Saturday, November 12, 2011, 3 p.m.
Collins Center, Sixth and Fremont streets, Baldwin City
All ages / Free
What a difference a year makes for the Baker University men's basketball team.
In last year's matchup against Friends University, the Wildcats suffered one of their worst defeats of the year with a 99-72 loss, but Baker took control from the opening tip in Tuesday's 76-65 win over the Falcons.
"Overall, I was pretty pleased," head coach Brett Ballard said. "We played well in spurts. I was really pleased with our effort on the glass. I mean, we out-rebounded them by 20."
Senior Jack Shortell led the 'Cats in rebounds with 13 and added 13 points to record a double-double.
BU also received a strong performance from junior Jordan Honore, who scored 23 points, dished out five assists and pulled down five rebounds.
"(Honore) does a great job in getting to the lane," Ballard said. "You know, he's quick and he's good with the ball and getting to the lane to create opportunities for him and for others. He has really helped us from an offensive standpoint."
The 'Cats are 3-0 on the season going into the Baker Classic Friday and Saturday in Collins Center. Baker will kick off the classic against University of St. Mary at 7 p.m. Friday and return to play Ottawa University at 3 p.m. Saturday.