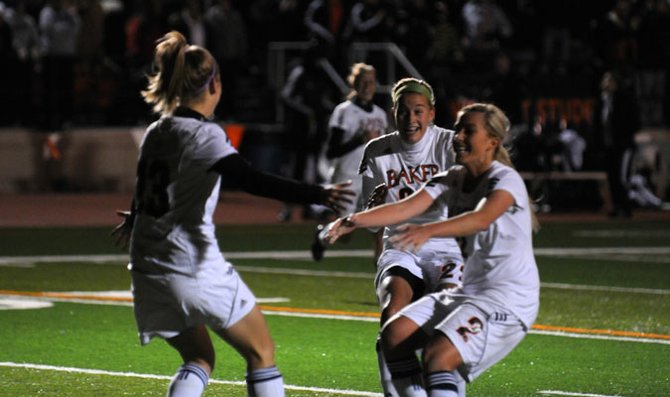 Saturday, November 12, 2011
Past Event
Saturday, November 19, 2011, 1 p.m.
Liston Stadium, Fremont and Second streets, Baldwin City
All ages / $5 - $8
The Baker University women's soccer team will make an appearance in the NAIA National Tournament for the second year in a row after defeating Avila University 2-1 Nov. 10 and Graceland University 2-1 Saturday.
Going into the Heart of America Athletic Conference Tournament, the team received a bye for the first tournament game as result of winning the regular season conference championship.
The Wildcats entered the matchup against Avila as the No. 1 overall seed.
Not even 10 minutes into the first half, senior Alix Schiraldi put the Wildcats on the scoreboard with a goal assisted by senior Ashley Ukena.
Senior Skylar Baker assisted senior Kylie White to another goal with 8:50 left in the first half, making the halftime score 2-0.
Avila scored with 3:37 left in the game, but the Eagles were unable to make a full comeback.
"I'm pretty proud of all the girls, especially the freshmen," Schiraldi said. "I thought they might be a little nervous coming into their first playoff game, but honestly they really stepped it up and they made a huge impact for us."
After defeating Avila, the Wildcats had a day off before facing Graceland Saturday.
Graceland was quick to get on the scoreboard with a goal one minute into play.
With 18:51 left in the first half, Baker scored with an assist by Ukena.
After going into halftime tied 1-1, the Wildcats took the lead with a goal by Ukena.
"(Scoring that goal) was an amazing feeling," Ukena said. "It wasn't just me though. Our whole team brought it down the field, I was just the one at the end."
The Yellow Jackets were unable to make a comeback, making the Wildcats not only the regular season HAAC champions, but the HAAC Tournament champions as well.
"It means so much. We've tried and practiced so hard over the season, and to go out and beat Graceland again, it is really special," Ukena said.
Baker made it to the Fab Four last year before losing to Hastings College.
Head coach Nate Houser said the team is ready to play in the national tournament.
"After having players that have played in the final four, they know how to win and they know how to succeed, and they've done a fantastic job teaching the new girls what it takes to win games like this," Houser said.
The Wildcats will begin their journey in the national tournament against Bellevue University at 1 p.m. Saturday at Liston Stadium.
"I could not be any happier with the way this team is playing right now," senior Maggie Dupes said. "The way we've been playing, I'm so excited for nationals."