Thursday, November 17, 2011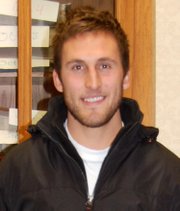 The men's soccer team hosts Oklahoma Wesleyan University Saturday in the first round of the national tournament. How excited are you and your teammates to play in the national tournament?
Oh, I'm very excited. This is the first time we've been to the national tournament since I've been here and other teammates have been here, so it is going to be a lot of fun.
How important will it be to play in front of a home crowd for Saturday's matchup?
It is going to be very important. I hope a lot of people come out and we play well for them.
The team had a tough 2-1 loss to MidAmerica Nazarene University in the Heart of America Athletic Conference Tournament Championship match for its first defeat of the season. Does it relieve any stress to not have to worry about being undefeated going into the national tournament?
Definitely, but the thing is, we have to put that loss aside. We can't think about it. Of course, it was nice we were still able to make it to the national tournament, but it would have been much nicer to win that game. Now, we have to put our heads up and do our stuff.
In the past few days, the temperatures have been falling to more seasonal temperatures. Being from Prince George, Canada, are you excited for the temperatures to continue tumbling?
I don't know. I think being here has made me kind of soft to be honest. I don't like the cold any more than (anyone else does) to be honest.
In Canada, hockey is by far and away the most popular sport. What made you decide to play soccer?
To be honest, hockey is really expensive to get into. You have to buy all of the equipment and stuff. Plus, it just wasn't my thing. Soccer is my passion.