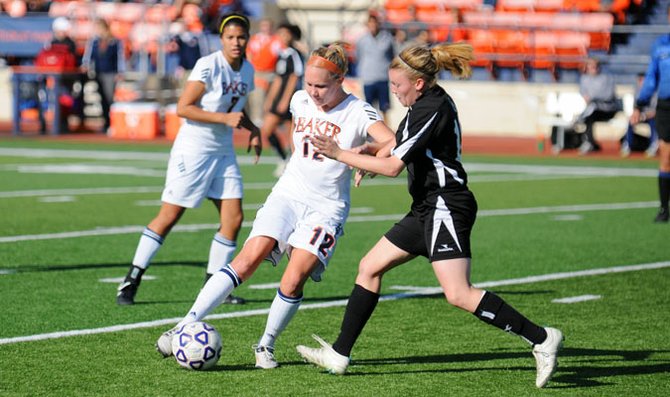 Saturday, November 19, 2011
The Baker University women's soccer team defeated Bellevue University 2-1 Saturday at Liston Stadium in the opening round of the NAIA National Tournament.
Baker University was the first to score with 9:27 left on the clock in the first half. Senior Skylar Baker scored off of a deflection from a shot made by Baker Orange staff member Jordan Dolbin.
The 'Cats started the second half with a 1-0 lead when senior Alix Schiraldi scored just seven minutes into play.
Despite a goal by the Bruins with 15:58 left in the game, Bellevue was unable to match Baker's two goals, helping the Wildcats move to the next round of the tournament.
"I just feel like we dominated the entire game and it reflected in the (outcome of the) game," senior Breana Hoener said.
Senior goalkeeper Maggie Dupes was kicked in the head during the Heart of America Athletic Conference Tournament Championship game against Graceland University Nov. 12 and was unable to play against Bellevue. Freshman Rachel Theobald started as goalkeeper for the Wildcats.
"I was very nervous because I didn't want to let down the team … all of us are ready for Alabama though," Theobald said. "(Our defensive line) is awesome. They're 100 percent the best."
The Wildcats are set to play Martin Methodist University at 4 p.m. Nov. 28 in Decatur, Ala.
"We've been getting more confidence and further along as a team standpoint with every game, so I think the (team is) excited to return (to Alabama)," Davy Phillips, assistant head coach, said. "This has been (the team's) goal the whole year so it's great to see them take another step toward their goal."
Baker's appearance in Alabama will not be the first, as the Wildcat's made it to the Fab Four of the tournament last season.
For the newcomers to BU soccer, though, the pressure is on.
"It comes with nerves but I think the excitedness, just the enthusiasm, equals out," freshman Shelby Schiraldi said.