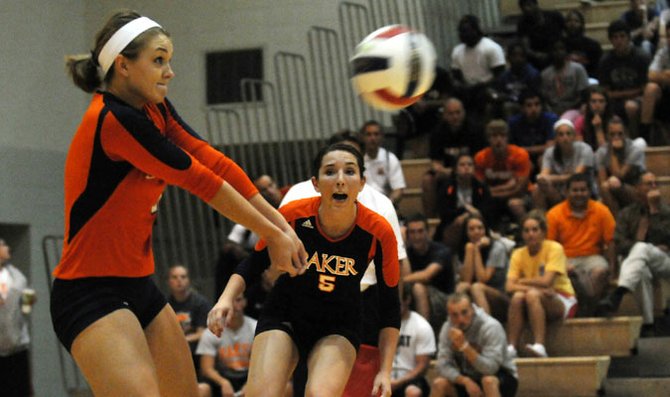 Wednesday, October 5, 2011
Fans at the Baker University volleyball match were celebrating more than just a 3-1 win over Graceland University Tuesday in Collins Center.
They were honoring head coach Kathy Allen's 300th career victory as head coach for Baker University.
"I want to say how proud we are, how much we appreciate everything you do for our student-athletes and what you do for our program," Director of Athletics Theresa Yetmar said to Allen following Tuesday's win.
Fans gathered on the court as Allen was presented with a memorial plaque from the university. Allen reluctantly took the microphone as fans chanted for her to give a speech commemorating her achievement.
"Before I came (to Baker) all of my wins were as (an assistant coach), so truthfully every single solitary college win that I can claim in my career has been right here at Baker University," Allen said. "I feel like I am blessed to be here and be a part of Baker University."
The Wildcats won the first set before losing in the second, and then came back to win the next two.
"I think during the first game and second we were a little over-exhilarated and that's what our problem was, but eventually we pulled it out and played really hard," senior Christina Delladio said.
Offensively, Delladio and junior Savannah Smith led the team with 12 kills each. Senior Brooke Allen led defensively with 18 digs, followed by senior Kelsey Cobb with 11.
The team also totaled 16 blocks.
"Graceland is usually one of our tougher matches, and it gives us a chance to show off our defensive skills," Smith said.
BU has a 14-10 overall record, is 4-0 in the HAAC and sits second in the conference behind MidAmerica Nazarene University at 5-0. Allen, Delladio and Smith each lead the conference in their own specialties.
Allen leads with 473 digs and 23 aces, Delladio with 97 blocks, and Smith with 199 kills.
"Being at the top, it always gives us a target on our back. We kind of like that pressure, and I think we've handled it really well," Smith said.
Despite the Wildcats' success in conference play, Delladio believes there are still some improvements the team needs to make to get better.
"It's kind of a sense of confidence that all of the (nationally-ranked) teams have. Whenever you play them, you can feel it when they step on the court," Delladio said. "That's something that we need to have if we ever want to be in that position."
The Wildcats play Tabor College at 4 p.m. Saturday in Collins Center. Their next conference game will be against Benedictine College at 7 p.m. Tuesday in Atchison.