Thursday, October 6, 2011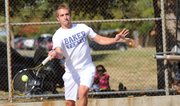 The Baker University men's and women's tennis team wrapped up their fall season Wednesday with a home meet against Emporia State University.
While the women did not win any of their matches, the men finished the day with a 2-7 record.
Freshman Ryan Gleue snagged both of the team's wins in his singles match, as well as his doubles match with junior Jordan Toothaker.

Toothaker lost his singles match in a third-set tiebreaker. The No. 1 doubles team of freshmen Nick Baker and Zach Aldrich also lost in a tiebreak.
"With the two tiebreaks, we could have easily had a 4-5 record," Ahmadian said.
Ahmadian is optimistic about the way competition is setting up for the spring season.
"I feel like once some of the freshmen … get older and more comfortable on the singles court they should be winning against these same guys if we face them in the spring," Ahmadian said.
Ahmadian said there are a few potential transfers on the women's side in addition to the women that will come over from the basketball team.