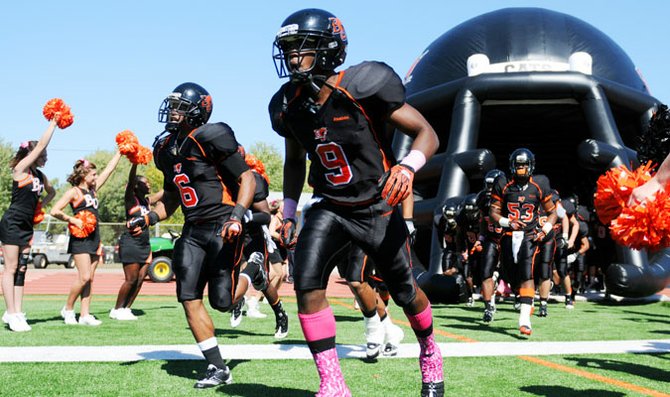 Thursday, October 6, 2011
One of the most difficult things for many parents of college students to do is to find ways to stay in touch with their children.
For Baha Hamil, Tammi and Rick Kristoffersen and Carla and Ronald Robertson, Baker University athletics provides an opportunity to support their children and the team they play for.
Baha Hamil, father of junior Laeth Hamil, attends a majority of Laeth's men's soccer games, as well as the Baker women's soccer games that precede them.
Besides cheering for Baker, Baha takes photos and posts them on Facebook for the athletes and other parents to see.
"(The women's soccer team) has two players from California and (their parents) always send thank you notes," Baha said. "They always message me on Facebook and say, 'thank you,' because they feel like they were there at the game. When I take pictures, I take a lot of action pictures so they can actually see their kids and what they do. And I take pictures for every player and not just certain players."
As a former soccer player, Baha realizes how important it is for players to have support from their parents.
"Oh my gosh, it is important," Baha said. "The kids would like to see their parents to show the same interest that they have. One of them is sports, otherwise (Laeth) wouldn't be playing soccer or any sport in college."
While Baha and his wife, Jonna Dougherty, only have one child at Baker, the Kristoffersens have two children at Baker that are athletes.
Sophomore Maddie Kristoffersen is a member of the Baker University dance team, while junior Kellen Kristoffersen is a member of the cross country and track teams.
Whether Maddie is dancing at a football or basketball game or Kellen is running at a meet, Rick and Tammi are often in attendance.
"It is a show of respect for us," Rick said. "It allows us to show we appreciate all of the effort they put into what they do. It doesn't take much effort for us to show up to all of these events."
Similar to Baha, Rick and Tammi also do extra things for the teams beside showing up to the games. Tammi has designed costumes for the dance team, while Rick takes pictures at each event and posts them on Facebook. Rick and Tammi also help coordinate tailgate events and supply food for the cross country team at most of Kellen's meets.
"We try to help out everywhere we can," Tammi said. "For cross country, we like to do tailgates. Who would have thought we would have been tailgating for cross country, but it is fun."
For Tammi, attending each event is special because she graduated from Baker.
"It feels sometimes like it has never changed," Tammi said. "I had one of those deja vu's when we dropped off Maddie the other night and it felt like me running into the (Delta Delta Delta sorority) house when we dropped her off because it was exactly the same. I absolutely love it."
Unlike some parents, the Robertsons do not live close to Baker.
Carla and Ronald are the parents of junior Jordan Robertson.
They live in Arkansas, but they still attend the majority of Jordan's football games and offer other means of support to the Baker football team.
One of the additions to Liston Stadium that many fans might have noticed this year is the inflatable football helmet that Carla and Ronald purchased for the football team to run out of before each game. The Robertsons said the inflatable helmet cost thousands of dollars.
"We've had parents step up, number one, financially to help our guys with scholarships," head football coach Mike Grossner said. "We had a helmet bought by one of our kids parents, which was an unbelievable gift. They already were giving to our program a lot, and then stepped up and really added some gameday excitement with that blowup helmet ... Whenever we've asked or had to reach out to the parents for something, they have really stepped up."