Thursday, October 20, 2011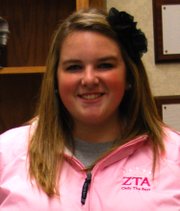 The bowling team had its first competition of the season last weekend. How do you think the team performed?
We performed really well actually. It's always, like, nerve-racking going in with new players and new personalities, but we all worked really well together and, you know, all of our personalities blended really well. We kind of learned how to keep each other going even when we necessarily weren't doing very well.
You have been one of the core group of juniors of the team that has been a part of the program since it was inaugurated at Baker three years ago. How much has the program improved in the past three years?
It has improved so much. Each person has, you know, has improved their averaged by 20-40 pins, which is a lot. I think that has to do a lot with us getting a new coach last year. Nothing against our old coach, but, you know, this coach just kind of knows how to explain it a little bit better than the other one did.
We all have grown so much ... even the people that joined last year. Everyone has improved a tremendous amount. It's actually really cool to watch. Especially like myself because I've improved my average by like 40 pins already and I'm improving all the time. It's really cool.
Due to some of the team's success last season, the team will be able to travel to some bigger tournaments. How excited are you to be able to compete in larger cities like Las Vegas, Indianapolis and Lincoln, Neb.?
I'm really excited. (Las Vegas) is super exciting. It's two different tournaments that are back-to-back. It's going to be on a completely larger scale. The bowling alleys have, like, I think 80 lanes in them, so they're ginormous. Everything is just, like, way bigger. We are going to be against teams that we have never been up against.
In the tournaments out here, we bowl against the same teams, all the time, so we know what to expect. We are bowling against different people, so it is going to be really interesting to meet these new people and see what else we are up against.
In Indianapolis, there are two tournaments we are going to that are in that area this year, so that is really exciting. We were excited that we were able to go last year, so it is going to be really great to see also how much we have improved from those tournament. Lincoln is going to be really exciting as well. One of our coach's husband is from up there, so he knows a lot of those people. Every time we go anywhere, we meet people that they have known throughout their lives because they were professional bowlers. It is going to be really exciting to go to see his element and where he's from and where he grew up.
Since there is not a bowling alley in Baldwin City, where does the team practice and how often does the team practice each week?
We practice in Lawrence at Royal Crest Lanes and we practice four days a week, Monday through Thursday for an hour and a half.
After the team's next tournament Oct. 29-30 in Lawrence, the team will not compete until Dec. 4-5. How will you try to stay motivated with that long of a layoff, especially around Thanksgiving where it can be much more tempting to eat turkeys than bowl turkeys?
Actually, the longer time period is less stressful because it gives us a month, so we can improve just in that month. With this two-week time period (between tournaments right now,) it is really hard because we just got done with one tournament and we are already preparing for the next one. It is going to be a lot different because we have never had that long of a time period, but I think it is going to be really great.
We are going to be able to watch each other grow because we are already, like, working on new drills and, you know, like, different elements of our, you know, approach and things like that.