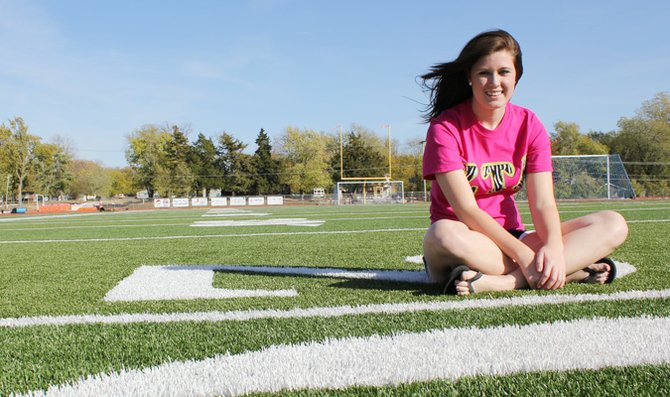 Thursday, October 27, 2011
Audio clip
Junior Bryan Williams reflects on his family's history at Baker
Legendary Baker alumnus Emil S. Liston has quite the list of achievements to his name.
Liston was the athletic director and football coach for Baker University as well as the founder of the NAIA and a member of the Kansas Sports Hall of Fame.
What he is best known for today, however, is Baker University's football stadium, which bears his name.
When Baker wanted to build a stadium in memory of alumni who died in World War I, the university did not have the funds. Liston came up with the idea to let young men trade labor for tuition money. 
The finished stadium, according to the Baker University athletics website, "was described in the Kansas City Star as one of the finest stadiums in the Midwest."
Today, three of Liston's relatives are competing and cheering at Liston Stadium. 
Junior Bryan Williams, sophomore Cami Williams and freshman Emily Liston said they were not sure how they were related to the legendary coach, but they had heard stories about his relationship with their grandfather.
"From what I understood, [he] was a great uncle," Bryan said.  "My grandpa exchanged letters with him for a few years. I'm not sure if they actually met face-to-face, but I know they communicated."
Emily said it took some time before people at Baker started to notice that her name bears an uncanny resemblance to that of her distant relative.
"Not at first, and then it takes them a while," Emily said.  "Some of my teachers a couple of weeks in were like, 'Were you related to the stadium's (namesake)?'"
Both Emily and Bryan said that other relations were a large draw toward Baker because both their parents and other close relatives attended BU as well.
 "My dad played [football] here in the late seventies and my uncle played here in the late eighties, so a lot of us have played here," Bryan said.  "It's pretty cool being able to go back and actually know family was here."
Williams plays football for the Wildcats, while his sister, Cami, is on the volleyball and softball teams. Their long heritage at Baker enticed the Williams siblings to travel hundreds of miles from their home in Arizona to attend the university.
"It was mostly because of the family tradition, so many family members being here," Williams said. "My younger sister is a sophomore and having my cousin Emily come out … It was pretty cool to see this whole side of the family in Kansas considering I've been in Arizona since birth. "
Liston said she took a little more convincing.
"I was always the stubborn child who said I was never going to come here because my parents came here and they like to joke with me about that, but when I actually came and visited I knew," Emily said.
Now that she is established at Baker, Emily said she has attended all but one football game at Liston Stadium. Williams said many of the other Liston descendants still enjoy 'coming home' to Baker.
"They still come out to the games," Williams said.  "A couple weekends ago we pretty much had a family reunion at my sister's volleyball game."