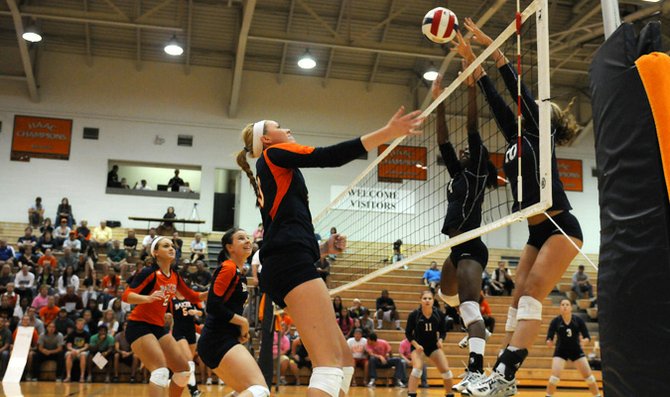 Thursday, October 27, 2011
Past Event
Tuesday, November 1, 2011, 7 p.m.
Collins Center, Sixth and Fremont streets, Baldwin City
All ages / Free
With a share of the conference championship on the line, the Baker University volleyball team wasted little time Tuesday sweeping Avila University 3-0 in Kansas City, Mo. for its 12th consecutive win.
The victory over the Eagles clinched a share of the conference title for the Wildcats, who are 23-10 overall and 8-0 in the Heart of America Athletic Conference.
"Obviously since I've been coaching at Baker for 14 years and have never won a conference championship, it's pretty darn big," head coach Kathy Allen said. "It felt pretty good to know that we for sure have at least a share."
The Wildcats jumped out to a quick start by winning the first set 25-16. BU then coasted to a 25-13 victory in the second set before closing out the match by winning the third set 25-21 to complete the sweep.
Seniors Christina Delladio and Sydney Pemberton were the top two performers for the Wildcats offensively. Delladio had a team-high 13 kills and two blocks, followed by Pemberton with 11 kills and 1.5 blocks.
The 'Cats can secure the HAAC regular season championship outright with a win against the Bobcats of Peru State College at 7 p.m. Tuesday in Collins Center.
With a victory Tuesday, Baker would be a perfect 9-0 in the conference. As of Wednesday, Peru State had an overall record of 9-16 and was 2-4 in conference play.
While the Wildcats are favored to win the match, Allen believes her team will be very motivated and will not overlook the Bobcats.
"We want to have solo possession of first place," Allen said. "We don't want to share it. Even though everyone else has at least one loss, we would prefer to have no losses. Having a 9-0 season in conference is our goal, and truthfully, as committed and devoted as this team is right now, I think they will be very prepared to play Peru State."
The match against the Bobcats will have a little extra meaning for seniors Delladio, Jamie Starling, Brooke Allen, Kassie Mishko, Kayla Anderson and Pemberton, as it will be Senior Night for the six players.
"It will probably be a little emotional because it is Senior Night, but I think it will be a good game," Delladio said.
Regardless of the result of the match against Peru State, BU will be the No. 1 in the HAAC Postseason Tournament because it defeated MidAmerica Nazarene University, which is the only team that could also post an 8-1 record in the HAAC.
The tournament will take place from Nov. 5-Nov. 12 and Baker will have home-court advantage throughout the tournament.
"(Home-court advantage) really meant a lot to us," junior Savannah Smith said. "I think that is what we wanted the most because our fans are awesome. It would really help us get excited for the games and kind of push us through the downtimes we have during the game."