Thursday, September 1, 2011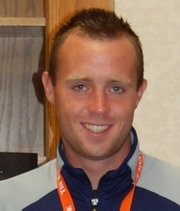 Being from Wales, how is the game of soccer in America from that in Wales, and how much does it bother you that your sport is called soccer here instead of football?
I think the game back home is a lot more physical in regards to tackles and stuff. In North America, there is a lot more emphasis on athleticism and you know, big, strong, run all day, fast, maybe not as technical, but still a good standard. When I first got here, it bothered me a lot that they called it soccer, but since I've been here I've changed and adapted. But when I go back home, I still have to watch myself in front of my friends or they will absolutely abuse me for it. When I go home, I make sure to call it football.
What attracted you to come all the way to Baker to play soccer?
I had a few friends from back home who had offers to (Pennsylvania State University) and they've been at professional clubs and they hadn't got offered contracts, so they were, like, 18 and wondering what to do. And they got offers from a few schools and they were over for a year and were a year older than me. They said what a great experience they had and how they loved it over here. I went to Florida for my parents' vacation in the states. It was something that interested me and when I visited Baker, it was just something that felt right and clicked right away.
The team got off to a hot start in Utah last weekend coming away with two 1-0 wins. What are your expectations for this season?
I think we have to win our next game to begin with, and win that game, and go from there. I think sometimes we look at the big picture too much, and we're like, 'okay, we want to win conference now. We want to make the national tournament.' Which we do. That's our goal, to make the national tournament and then see how far we can go from there. But right now we just have to win our next game and then we can go from there. I think if we get to playing like we can, later in the season we'll be very good. We should win conference and if when you get to the national tournament, it's who can play well for those three or four games, you can win a national title.
One thing that impresses me about the men's soccer team is how close-knit it is on and off the field. I've witnessed some pretty intense FIFA video game battles while you and your teammates have been hanging out with each other. Who is the best at FIFA on the team?
That's a tricky question because I'm going to get absolutely abused if I say myself because it varies. We've got a couple of good players. We've got some players who think they can play, but you know, they can't. I'd have to say (sophomore) Ben Coyle's definitely up there, and (junior) Nick Aguilar from time to time, but he is a bit flaky. He can be very good or not. I'm always up there. We've got a couple of players, like (junior) Odaine Sinclair thinks he can play, and can be really good one minute and really bad the next. (Junior) Jose Baquerizo thinks he is up there as well. We have a good mix of guys who can play the game and it does make for some good games, you know. We have a bit of dead weight as well, but us better guys like to play them and make ourselves feel good. We have a good contrast of guys on the team.