Thursday, September 1, 2011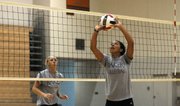 On the road in Orange City, Iowa, the Baker University volleyball team went 1-3 against No. 12 Doane College, Briar Cliff University, No. 20 Dordt College and Morningside College in the Red Raider Classic last weekend.
Baker fell to Doane, Dordt and Morningside 1-3 in each match, but defeated Briar Cliff 3-2.
After the Wildcats competed in their first few matches of the season, junior Savannah Smith said they went well, but not as well as the team had expected.
"So far it's running smoothly," Smith said. "We haven't played very much, but we're coming together as a team."
While competing against Doane College, senior Christina Delladio had 10 kills, senior Sydney Pemberton had 10 kills and senior Brooke Allen had 19 digs.
In the Wildcats' win against Briar Cliff, junior Jana Boss set up 32 assists, Delladio and Smith tallied 12 kills, respectively and Brooke Allen recorded 22 digs.
"It's awesome, but I'm not as interested in kills as I am blocks. Blocking is what helps my defense and that's what I want to be good at," Delladio said.
The Wildcats left Thursday to travel to Bellevue, Neb., where they will face Dordt College, Northwestern College, Concordia University and Hastings College.
"I'm looking forward to being a little more experienced and used to each other," Delladio said.
Senior Brooke Allen is looking forward to competing against Dordt College again, too.
"I'm interested in re-matching Dordt again, and to show the teams at the last tournament what we can really do because they are all beatable," Allen said.
Allen felt frustrated while playing the ranked teams in Dordt and Doane, but thinks the team will be more prepared when it is time to play conference matches.
"It really is better to come out playing good teams and then seeing that we can beat them. Obviously then we can beat everyone in our conference and it boosts confidence," Delladio said.
With seven seniors on the team, Delladio believes it helps having players who have a lot of experience because there is a lot of leadership on the court.
Allen said the seniors know and remember how other teams play from their history.
"Seniors should know what they are doing, so we have those leadership roles out there," Delladio said.
The Wildcats will play their first conference game against the Vikings of Missouri Valley College at 7:30 p.m. Tuesday in Marshall, Mo.
"We usually match up pretty well with Missouri Valley," Smith said. "So that's a good first game to get under our belts."