Thursday, September 1, 2011
The Baker University women's soccer team began its season with a trip to Salt Lake City for games against Westminster College Friday and Rocky Mountain College Saturday.
During the Wildcat's season opener against Westminster, BU was the first to get on the scoreboard thirteen minutes into the second half. Freshman Bailey Sosa crossed the ball to senior Alix Schiraldi, who despite Westminster's defenders' efforts, was able to get a head on the ball and score before she and defenders crashed into one another in a heap on the field.
Photo Gallery
Women's soccer practice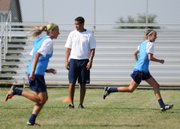 Practice photos from late August
Although Schiraldi scored the goal, DakStats, the statistics keeper for Baker athletics, says the goal was deflected off a Westminster defender.
"It looked like (Westminster's defender) headed it in, but I actually headed it in," Schiraldi said. "We crushed together, it was like a train."
With five minutes left in regulation play, Westminster tied up the game on a breakaway goal. The teams went into double-overtime and Westminster won the game with a goal in the final two minutes of play.
"There was a lot of hesitation rather than just going through a lot of things. People weren't sure to do this thing or that and while we were thinking about it we got caught off guard and were scored on," senior Breana Hoener said.
The 'Cats had their first win of the season against Rocky Mountain College by the score of 1-0. Senior Ashley Ukena scored with only five minutes left in the game, making Baker's overall record 1-1.
"We knew coming in we're going to have to do a lot of teaching and growing and I thought that kind of helped us magnify some of the things we need to do better and I think the second game we did that," head coach Nate Houser said.
Baker's team has many new players this season, but the upperclassmen feel that the women are stepping up and filling the shoes of last year's seniors well.
"I thought for it being our first game as a whole team we played really well," senior Maggie Dupes said.
Although the team is young, Hoener believes the team will grow and become strong as a whole.
"We're getting there, it just takes time, and we'll get to where we want to be," she said.
The Wildcats are set to take on the Pirates of Park University at 5 p.m. Friday in Parkville, Mo.