Wednesday, September 7, 2011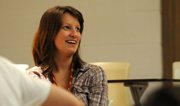 Freshman Katy Westhoff had a specific idea in mind when she joined Baker University's Student Activities Council. She wanted to bring slam poet and rapper George Watsky to Baker's campus to perform as an SAC-sponsored event.
"Right away I joined the entertainment committee to further my goal," Westhoff said.
Westhoff found out about Watsky through a YouTube video. She subscribed to his YouTube channel, and has been a fan ever since. Westhoff likes that Watsky is a different type of entertainer than the average rapper or comedian.
"It is clever more than profane. He came out with a mixtape a while ago. I listen to it nonstop," she said. "It is just really cool and interesting."
Westhoff thinks the uniqueness of his performances is something students would enjoy and could be a new experience for many of them.
She hopes that if she gets the chance to bring Watsky to BU, other students will also become fans of not only him, but the type of entertainment he does.
"Poetry is something that is sort of underground and hard to see live. You have to go out of your way to find it and I think it is a really interesting form of self-expression," Westhoff said.
While SAC Entertainment Coordinator Kyle Baum isn't sure if the group will be able to book Watsky this semester, he says it could still be a possibility for this year.
"It is always a possibility, it just depends on what the (events) board votes on and what the council votes on," Baum said.
Performers and events for this semester are basically set, with the exception of a lecturer.
"We're still in the programming of trying to get things set up, but we're looking at doing an alcohol lecture," Randy Flowers, graduate assistant for student activities, said.
Flowers said some events for students to look forward to include free movie nights, a Halloween open house, homecoming week and BU Preview weekend, which will include a performance by Mission Improvible, an improvisational comedy troupe.
One of Flowers' goals for the semester is to increase involvement of those not involved with a greek house in homecoming week. He said non-affiliated students are encouraged to create their own teams, and that there can be more than one team.
Halloween open house is one of the events Flowers said will be laid-back, and fun.
"I think we're going to have a costume contest and probably some cookie decorating or something like that in (Harter Union Lobby)," he said.
SAC will host a free movie night for students beginning at 6 p.m. Friday in Lawrence. The committee will be giving away tickets to the first 150 Baker students with their student I.D.s at Hollywood Theaters Southwind 12 located on Iowa street. Students will be able to see the movie of their choice.