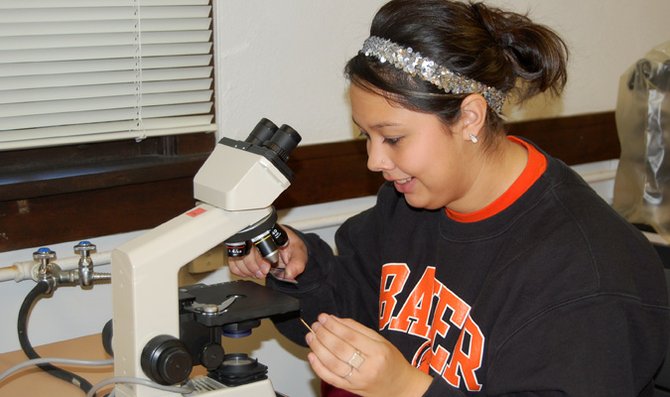 Wednesday, September 28, 2011
Every student knows how hectic balancing classes, activities and a social life can be.
However, only a handful of Baker students know the stress of juggling multiple upper-level science courses, multiple campus organizations, off-campus obligations and preparation for a long and mentally-grueling entrance exam.

The life of a pre-health student is not for everyone.

The few who have chosen this notoriously difficult academic track say that the hard work is completely manageable and worth the rewards.
Junior Adam Blevins, a molecular bioscience major and psychology minor, is juggling his rigorous course schedule, job as a pharmacy technician and a long list of campus activities.

"It is pretty challenging to find a balance between courses, work and on-campus activities, but at the same time, it's also very doable," Blevins said. "On campus, I'm involved in Sigma Phi Epsilon fraternity, Baker Ambassadors, University Admissions Assistants, Cardinal Key and Order of Omega, so you can see how it's important to use your time wisely."
Sophomore Dominique Vieyra, a biology major and chemistry minor, said a busy schedule is just an inevitable part of studying and working in healthcare.
"I got sick last year with (mononucleosis), so I'm playing catch-up this year, but I think the next 10 years look the same way," Vieyra said. "It looks intimidating when you're looking at your Bachelor of Science in biology checklist, but I love a challenge."
Professor of Biology Darcy Russell is the Health Professions Coordinator for the university.
She said pre-health programs are difficult simply because medical school, pharmacy school and veterinary school are difficult.
"It's much more strenuous (than many other programs)," Russell said. "They don't just let every Tom, Dick and Harry into medical school or pharmacy school."
Russell hopes to have Baker alumni currently in medical school come to campus later this month to speak. She also plans to have admissions representatives from other graduate healthcare programs on campus in the spring.

Blevins' hard work has been repaid with a high Pharmacy College Admissions Test score, an internship at the Lawrence Memorial Hospital Pharmacy and the opportunity to study a subject he enjoys.

"The way pharmaceutical drugs interact with your body has always interested me," Blevins said. "Even the way Tylenol works in your body … is very complex."
Vieyra has a couple of years left before she starts to see her rewards.
"Being able to help people has always been a passion of mine," Vieyra said. "I decided on medicine my eighth grade year and just never let it out of my sight."