Thursday, September 29, 2011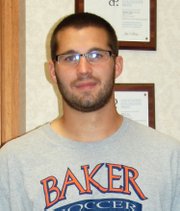 With this being your first season playing soccer at Baker, how different is it from playing soccer, or football as you probably call it, in your hometown of London?
It's actually a lot different. The game here, I've noticed, is a lot faster, and technical as well. It is at a high standard. Coming from a (junior college), which is where I came from before Baker, the standard wasn't as good as Baker, but what I've noticed in this conference and around this area is that the passion and the speed of the game is a lot different.
That is surprising, considering your sport is pretty competitive where you are from. What attracted you to come play in America and then eventually transfer from a junior college to come to Baker?
As a young boy, I always dreamed about coming to America and playing soccer at a university, and I never had a chance. When the chance came up, I took it and I went to a junior college, as I said before. They were a good team, but Baker has a great history, which is one of the things I was looking for. (Baker) has a strong academic situation going on, and I'm glad that I made the decision to come here.
I'm sure head coach Nate Houser is happy you came to Baker, as well. You have already been recognized for your play so far this season by receiving the HAAC Defensive Player of the Week last week. How big of an accomplishment is that for you personally to receive that honor?
On a personal note, it's a good accomplishment, and I'm happy with that, but it's about the team. We've got a lot more ahead of us, which is what is important.
While you are primarily a defender, you have scored four goals this season, too. How good does it make you feel that you are making a difference on both the offensive and defensive end of the field?
Again, it feels good, but to be honest, the delivery from the boys, (senior) Tom Lowndes, (and junior Ethan Bauer) has been brilliant. What I do well is I make good timing on the ball, but it's down to the boys that put the ball in the box, really.
The team has only allowed a total of five goals in its first nine games. How have you been able to adapt to Baker's defensive backfield so quickly and fit in so well with the other defenders on the team?
The other defenders ... basically they're great lads. They're willing to learn and we work well as a team. We have a great relationship and we work hard is the main thing.