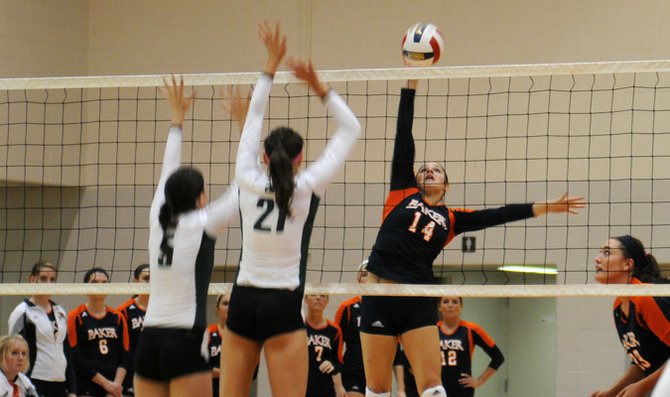 Thursday, September 29, 2011
The Baker University volleyball team remains undefeated in the Heart of America Athletic Conference after winning 3-0 against Central Methodist University Tuesday in Collins Center.
"We've really come together as a team," junior Jana Boss said. "We've had our struggles, but we've really tried to work through them."
The Wildcats controled the match from the opening serve, as they won in straight sets 25-9, 25-13, 25-15.
The win came after splitting a pair of games over the weekend in Lawrence. The 'Cats began the set Sept. 23 with an unexpected 3-2 loss to the College of the Ozarks.
"Friday was one of those regret games we probably should've won," assistant coach Matt Windle said.
Boss and senior Sydney Pemberton agreed that the team could've put up a better fight.
"We just weren't prepared to come in and play," Pemberton said. "I think we underestimated them a little bit."
Despite losing to College of the Ozarks, the team continued to support each other in preparation for the next game.
"No matter what, even when we do have a really bad loss, we don't gang up on each other," Pemberton said. "We support each other no matter what. Everyone has an off day."
The Wildcats went back to Lawrence Saturday ready to play and defeated Haskell Indian Nations University 3-0.
"Coming out with a strong win there was a good balance for the weekend," Windle said.
Senior Christina Delladio and sophomore Jasmyn Turner each had nine kills, while junior Savannah Smith tallied seven. Senior Brooke Allen totaled 19 digs.
The win Saturday helped set the tone for Tuesday's win, which brought Baker's overall record to 13-10.
"Although Central Methodist is one of those bottom teams in our conference, we made a statement," Windle said. "We showed up with energy and came to play a complete game."
Allen led Baker with 15 digs, followed by Boss with 10. Delladio totaled nine kills, and close behind were Pemberton and Smith with seven and six, respectively.
The 'Cats' winning record comes from the help of senior leaders Delladio and Allen. Delladio leads the HAAC in blocks with 93 and Allen leads the conference with 458 digs.
The underclassmen on the team have also been key contributors to BU's success so far this season.
"(Freshman) Taryn (Brees) is probably one of the most improved freshmen," Windle said. "She's an athlete; she's got some fire to her. It's been nice having her (on the court)."
The Wildcats will play their fourth conference game against Graceland University at 7:30 p.m. Tuesday in Collins Center.
"I think as we're gradually progressing each week, if we can just continue that and not digress we should be (continue to do well)," Boss said.