The first official spring football practice was held (Wednesday). How did that go for you and the rest of the team?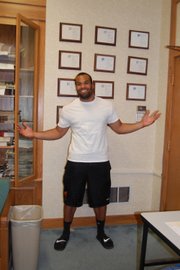 Audio clip
1 on 1: with Andre Jolly
It was really fast-paced and very up-tempo. We really didn't miss a beat and we were really getting after it offensively and defensively. We got a lot accomplished and a lot of stuff thrown at us the first day. We just took care of business the first day of practice.
The team will only lose 10 players off last year's team that will be graduating this spring. How much do you think that will benefit the team next season to have so many players returning?
All it has done is build very good team chemistry with the guys coming in to replace those 10 seniors. They are picking up on it really fast and as a whole team, even though we've lost just 10 seniors, we're looking like a completely whole new different team going into next fall.
As a pass rusher, are there any moves that you try to put on offensive lineman that you find particularly effective to get to the quarterback?
Well, I'm a speedy guy, so I just like beating people clean off the edge, but if I had to use a particular move, it would be just a simple rip move, and then if not (that), I just like working wrist (moves) a lot.
While we are champions of character in the NAIA and do not showboat after making big plays, what would your signature celebration be after each sack?
Honestly, that is a very tough decision, but if I had to choose, it would either be (B.J.) Raji's little dance he does or Clay Matthew's little signature dance after he gets a sack. Both of those are pretty legit.