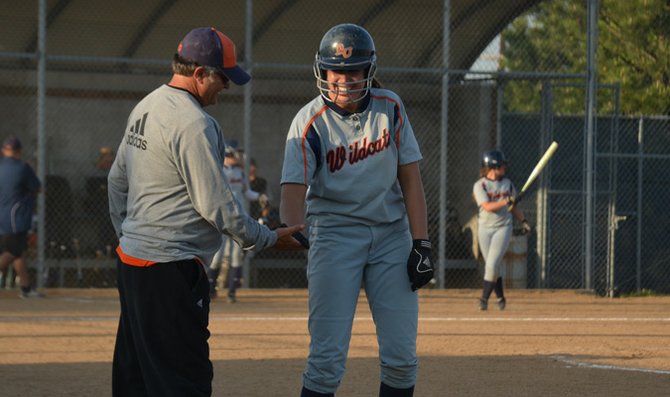 Related Story
Following a sweep over Evangel University April 5, the Baker University softball team continued its winning ways with another sweep over Peru State College and a split against MidAmerica Nazarene University.
Sophomore Maggie Holmberg was in the circle for the first contest against Peru State Saturday. She went seven innings while compiling 10 strikeouts and allowing only one hit. The hitting was working for Baker as well. The Wildcats recorded six hits and scored on five of them, bringing in one more run by a walk, as they won 6-1.
Head coach Matt Windle was pleased with the performance of his team and thinks that with successful hitting, the Baker Wildcats are the best team in the conference.
"If we hit the ball, (our opponents are) in trouble," Windle said. "I really think that we are one of the most dangerous teams in the conference."
The second game wasn't much different for Baker. BU jumped out early fueled by another strong pitching performance, this time from sophomore Erin Greenwood. Greenwood was one walk away from a perfect game, allowing no hits while compiling 10 strikeouts. The Wildcats went on to win the game 3-0.
"Her sophomore year has definitely showed that she is willing to put in the work that she has to put in," senior Brittany Vollenweider said.
Against Peru State, Baker was forced into yet another road game this season. The Wildcats were forced to play the series in Olathe due to a broken sprinkler head at Cavaness Field. Despite the inconvenience, the team found success and defended their spot as the third best team in the Heart of America Athletic Conference.
Two Wildcats were honored for their performances over the duration of the week with Greenwood and junior Summer Kelley earning HAAC Pitcher and Player of the Week awards to their respective resumes. In two games, Greenwood pitched nine innings and struck out 22 batters while allowing only five runs. She also added six RBIs and a two-run home run in her offensive effort.
In 13 at bats, Kelley recorded seven hits and a home run. Her three RBI's and three runs scored fueled her to a .538 batting average in the four-game stretch.
"It's exciting to have been able to play well and contribute to the team's success sweeping Evangel and Peru State," Kelley said. "Our team is really feeling good right now with offense and defense all coming together for conference play."
BU put its six-game winning streak on the line against the Pioneers of MidAmerica Nazarene Tuesday. The Wildcats picked up right where they had left off and defeated the Pioneers in game one 6-4 in 10 innings.
Baker almost came away with its fourth straight sweep, but the team could not dig itself out of the 5-0 hole and fell to MNU 6-5 in eight innings.
The Wildcats will be back in action for a doubleheader against the Ravens of Benedictine College at 1 p.m. Sunday at Cavaness Field.