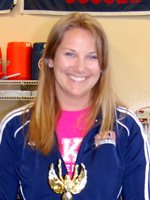 Audio clip
1 on 1: with Lynsey Payne
This past weekend, you took the dance team to compete at the NDA Collegiate Nationals in Daytona Beach, Fla., and came away with the team's second straight national championship. What are your feelings after accomplishing that feat?
I'm really excited. To go and watch this competition grow, because it is a pretty new competition ... the competition itself in size has grown and the competition level has gone up. So, to be able (watch it grow the past) two years in row is a pretty awesome thing, especially since we graduated seven seniors from the team last year. So essentially, we have pretty much a new team. I was really proud of the girls.
Time management is a big thing for you with having to be the dance coach, an athletic trainer and a professor. How do you manage doing all of that?
It is very difficult. I try to divide the day up as best as I can. The morning is reserved for teaching and advising and any emergency type of treatment and things like that that we have. Afternoons are for treatment and evaluations, and the last half of the afternoon is dance. Unfortunately, sometimes everything doesn't compartmentalize like that. It is a challenge some days, especially when there are a lot of tests to be graded, and (a lot) of outside normal office hours to do, so I don't sleep very much.
With those three positions that you have at Baker, which is your favorite and why?
I don't know if I can choose a favorite. I love the way that I get to interact with students in so many different ways. Interacting with them in the athletic training room, I get to know students in a different way than I would in the classroom. Working with the dance girls ... I love the dance girls ... and interacting with them as their coach is very different than if I were to just see them in the athletic training room. So it is really difficult to pick a favorite because I love the way I get to interact with everyone, and the reason that I like my job so much is because of the students at Baker University.