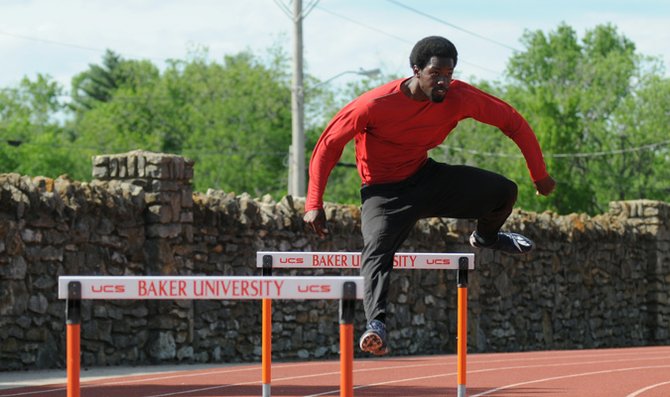 With the NAIA Outdoor National Championships five weeks away and the Heart of America Athletic Conference Championship quickly approaching, the Baker University track and field team is continuing to have athletes hit national-qualifying standards and improve on previous marks.
"To see them continually progress through the season is always fun," head coach Zach Kindler said. "We will continue to work on the little things over the next couple of weeks to really get us pumped up for conference."
Sophomore Stephanie Nelson highlighted the team's performance at the Darrel Gourley William Jewell Invite Saturday by claiming two event championships.
Nelson won the discus with a 42.03-meter throw and the javelin with a mark of 39 meters. She also finished third in the shot put with a 12.85-meter throw.
The Wildcats only competed in throwing events at William Jewell College, but had five athletes finish within the top five of their respective events.
Other members of the team competed in the KT Woodman Classic Friday and Saturday in Wichita.
Senior JL Anderson had a national-qualifying time in the 110-meter hurdles with a time of 14.80.
Freshman Tyler Sloan qualified for nationals in the 100-meter hurdles earlier in the season but was able to improve Saturday with a time of 14.42 seconds, which helped her reach a seventh-place national ranking in the event.
With this continued progress, junior Dana Loveland said the team has one goal in mind that helps to keep it focused throughout the season: a Heart of America Athletic Conference championship.
"I think we have been coming along pretty well," Loveland said. "Our main goal is conference, so we are just working toward that, and I think times are starting to get better as the season goes on."
Freshman Andrew Heim said he too is impressed with the team's progress during the season.
"The improvement has been awesome," Heim said. "I've seen some of our (400-meter) runners go from running 54s to 51s. I know the distance guys are dropping their times as well and the field event guys have been improving their marks."
Some of the 'Cats will participate in the Kansas Relays Thursday-Saturday in Lawrence and the Mule Relays Friday in Warrensburg, Mo.
Entrance into the Kansas Relays is based on performance, so the team will be competing in two separate meets for the second consecutive week.
"Most of the kids that are going to KU are national qualifiers and so it places them in an environment that is comparable to the elite competition that they will see at the national level," Kindler said. "It's helpful for them to get that experience and see what they are capable of doing."
The Wildcats will then return home for the Wildcat Relays April 28 at Liston Stadium before competing in the HAAC Championships May 4-5 in Lamoni, Iowa.