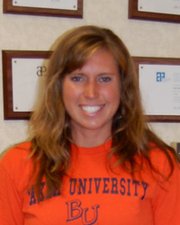 Audio clip
1 on 1: with Summer Kelley
After playing two years at Johnson County Community College, you have been one of the offensive leaders for the Baker University softball team this season. How has the transition to playing for BU gone for you?
It has gone really smoothly. My teammates have helped me a lot and the coaches have been really nice, too. It has all been really easy to just come in and feel welcome and do well.
The Wildcats are set to play Peru State College in the first round of the Heart of America Athletic Conference tournament today at Cavaness Field for games one and two of the series. What are the team's expectations for the series against the Bobcats?
We hope to do just as well against them again because we are confident and we have been playing well. We should just take that confidence into the game and be able to perform well.
How much do you think the team will benefit from having two of the conference's elite starting pitchers in Erin Greenwood and Maggie Holmberg for a best of two out of three-game series?
I think it is going to give us a huge advantage because like you said, there is nobody else in the conference that has like, (No. 1 and No. 2) pitchers that are as good as ours, so with playing the best of three games, we definitely have better depth. It is just going to be whether or not our hitting comes out because they've really kept the (opponents') runs down for us.