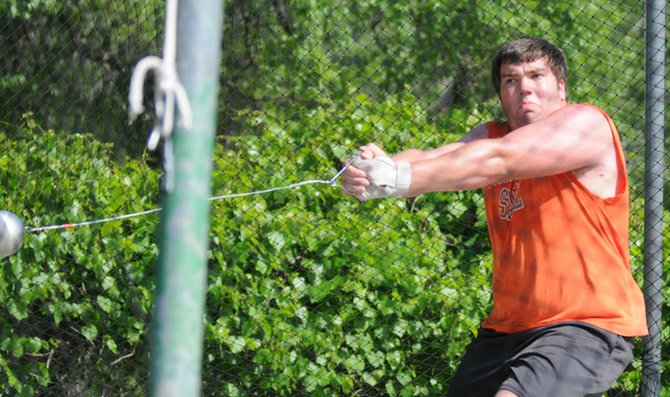 Multiple athletes on the Baker University women's track and field team made history Thursday-Saturday by claiming five school records at the Kansas Relays in Lawrence and the Mule Relays in Warrensburg, Mo.
Freshman Tyler Sloan and sophomores Stephanie Nelson and Megan Rosa each broke Baker records in their respective events
"To say that the five best female (records) in Baker history (were broken) in one weekend, that's pretty impressive," head coach Zach Kindler said. "So I would say on the women's side it was a really good weekend."
Kindler referred to the Mule Relays as the "Tyler Sloan show" as she broke three school records, qualified in three different events for the NAIA Outdoor National Championship and was named Heart of America Athletic Conference Track Athlete of the Week.

Sloan finished second in both the 100-meter hurdles and 100-meter dash, and also was the event champion in the 400-meter hurdles.

Nelson competed at the Kansas Relays, where she broke the school record in the javelin by hitting a national-qualifying mark by more than four meters. She finished sixth in the event with a throw of 45.17 meters.
Rosa rounded out the group of record-breakers by finishing with a time of 38:31.10 in the 10,000-meter run.
Kindler said Baker Orange staff writer Katie Thurbon fell just short of breaking a school record in the pole vault at the Kansas Relays, but was able to improve on her national-qualifying mark with a 3.65-meter performance.
Senior JL Anderson led the way for the 'Cats at the Mule Relays with a fifth-place finish in the 110-meter hurdles and seventh-place finishes in both the 100-meter dash and the 400-meter hurdles.
Anderson said the Mule Relays went well for a number of individuals, as the Wildcats recorded 28 seasonal bests on the weekend.
"We had a lot of personal best marks," Anderson said. "So I think it gives everybody a chance to know what they can do and gives the team a good idea of how we will do together to try to win another conference championship."
The team began its season at Liston Stadium for the Baker Relays, and will attempt to carry its momentum at home once again Saturday for its final meet before the HAAC Conference Championship in Lamoni, Iowa.
Sophomore Lauren Jaqua said the Wildcat Open will be different than the Baker Relays because of the progress the team has seen throughout the season.
"I think it will be different because we are well into our season now and we are all better competitors," Jaqua said. "We are faster, jumping higher and jumping longer so it will be a more exciting meet."
The field events will begin at 10 a.m. with the women's hammer throw and the men's and women's 4x800-meter relay to lead off the running events at 11 a.m.