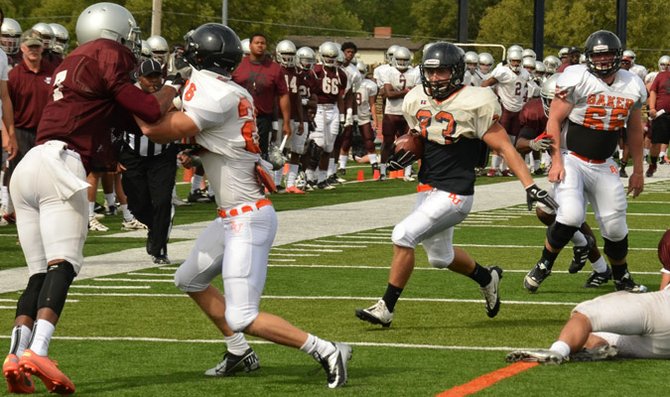 The Baker University football team will kick off its season against arch rival Ottawa University at 6 p.m. Saturday in the third annual Victory Sports Network First Down Classic in Ottawa.
Photo Gallery
Football scrimmage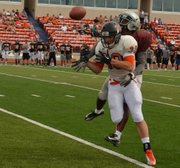 Baker University Wildcats faced off against Fort Scott Community College in a scrimmage on Saturday, Aug. 18. The Wildcats will kick off their 2012 season Saturday, Aug. 25, at the People's Bank Field in Ottawa. (photos by Jordan Dolbin)
After falling to Ottawa 24-14 in 2010, the Wildcats bested the Braves 41-16 last year at Liston Stadium. The No. 18-ranked Wildcats were picked to finish third in the Heart of America Athletic Conference and the No. 11-ranked Braves were selected to win the Kansas Collegiate Athletic Conference.
The 'Cats only graduated 10 seniors from last season and have nine players who were named as USA Football News NAIA Preseason All-Americans.
"We returned a lot of guys with experience, so they know what to expect," junior Jake Morse said. "They know the system with offense and defense both."
Morse returns as the co-HAAC Offensive Player of the Year, and after being knocked out of the game against Ottawa two years ago with a concussion, he wants to start the season off right against the Braves.
"Yeah, the (2010 Ottawa) game was kind of rough," Morse said. "I don't remember too much of it. For us, it is just about going in and redeeming ourselves and getting another chance to go into their place."
The Wildcats had a chance to prepare for Ottawa in a scrimmage Saturday against Fort Scott Community College. Head coach Mike Grossner was pleased with the performance of his starters and backups, but despite the effort given by his football team, he was not all smiles after the scrimmage. Early on in the scrimmage, junior Scott Meyer's day and season ended as he tore his anterior and interior cruciate ligaments and his meniscus.
The loss of Meyer, along with finding out that last year's starting fullback Kyle Rooks will be unable to play this season because he is out of eligibility, has changed Grossner's outlook on who will play in the backfield.
"We lost our two most-experienced backs from last year in one weekend and luckily we've recruited and developed and our team will be okay," Grossner said.
While the depth of the backfield is a small area of concern for the Wildcats, the defense stepped up to create seven turnovers in the scrimmage against the Greyhounds.
Baker players realize they will have to be crisp offensively and defensively to defeat the Braves, but special teams have decided the outcome of the game the past two seasons. In 2010, Ottawa ran the opening kickoff back for a touchdown and last year, the Wildcats' special teams unit scored all of BU's 17 first-half points.
"I think it might even be a bigger impact than the past two games (against Ottawa) because we've just been fine-tuning all the things that, you know, it may have looked great from the stands or from the audience standpoint, but we know we have a lot of things that we need to fine-tune so they'll be perfect," senior Reggie Harris said.