Thursday, February 2, 2012
After a very successful soccer season, you have been hard at work this winter on an internship. Can you describe your internship in terms of who you have been working with and what work you have been doing?
I've been working with the athletic department here at Baker (University). More directly with Theresa Yetmar, the director of athletics, and Andrew Patch, the assistant (athletic director), and basically I've been working with game operations and helping setting up and tearing down. It's really cool to do that because as a student athlete, you don't really think about what all goes into it. For the basketball games, I'd show up at 10 (a.m.) and I wouldn't leave until like 7:30 (p.m.). I'm just used to showing up and playing the game. I'm also working on a project that they gave me that involves revamping the hall of fame. At Baker, a lot of students don't really see it or whatever because it is not really well done right now. So, I'm working on reorganizing that and trying to make it a good recruiting tool that we can use in the future.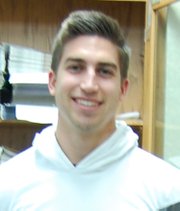 Audio clip
1-on-1 with Nate Byarlay
Over the summer, you also had an internship with Sporting Kansas City. How much do you think these two internships will help you get a job after you graduate?
My one with Sporting KC, I actually got it just directly through my Baker connections. (Head coach) Nate Houser knows someone that works there. Kristin Bock, she's a Baker (alumna) and also played soccer. It's great. Internships are obviously something that sets you apart and something that gives you a little bit of experience. What I've learned from my two internships so far, I feel like, will help me out when I'm trying to look for a job.
You are one of several players returning next season from a team that made a run to the Final Four in 2011. How excited are you for your senior season?
I'm so excited. I'm ready for the season to start already. It was a fantastic ride this past season. We had a lot of great support from the fans here, the alumni and administrators and all that stuff. It was a fun time. I'm ready to do the hard work and try to make a run at it next season.
With the weather this winter being surprisingly warm, have you or any of your teammates had the chance to go outside to practice or play pick up games with each other?
It has been so beautiful outside and I have had to work a lot, but I did have a chance. My teammates and I, and the (women's) team actually, we played out at Liston (Stadium) the other day. It felt like spring. It felt like fall. It felt like something, but not winter. It was awesome. I'm trying to enjoy the weather as much as I can.