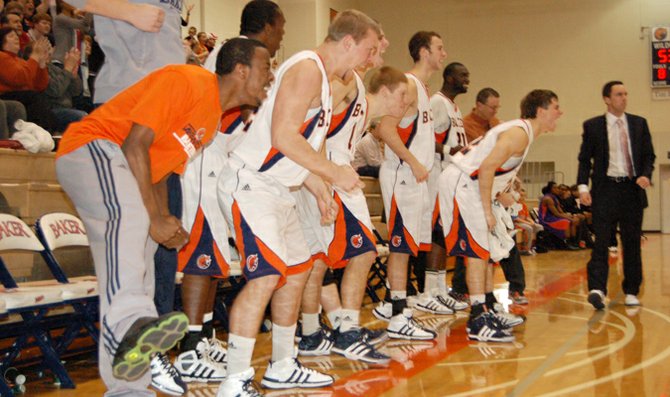 Thursday, February 2, 2012
The Baker University men's basketball team was able to avoid being upset on its home court by edging out Missouri Valley College 60-58 Saturday in Collins Center.
Junior Corey Anderson nailed his fourth 3-pointer with 31 seconds remaining to give Baker a 59-58 lead, but the Vikings did not go down without a fight.
"That was obviously huge under the circumstances," head coach Brett Ballard said. "We actually just put that (play) in about a week ago, so they did a good job of executing that. Corey stepped up and made a big shot when we needed it."
The Wildcats forced Missouri Valley to turn the ball over on the next possession, but after junior Jordan Honore made one of two free throws, the Vikings still had an opportunity to win it or send it to overtime.
Baker's defense held strong until committing a foul with 2.1 seconds left to send Chuck Misurca to the line, but he missed both attempts to seal the win for the Wildcats.
"It is like our coaches said, good teams win these kind of games," Anderson said. "No matter what it is, you never apologize for a win."
The Wildcats trailed 26-22 going into the break and 53-46 late in the second half, but they rallied with a 10-0 run by attacking the basket and getting to the free-throw line.
"We work on that every day in practice with trying to go strong to the basket and getting fouled," sophomore Todd Eils said.
With the BU win and Benedictine College knocking off Evangel University as time expired in overtime, the Wildcats moved into a tie for second place with Avila University as of Wednesday in the Heart of America Athletic Conference.
Baker is 15-7 overall and 8-3 in conference play with seven games remaining before the conference tournament, but Ballard believes the team still has a number of things to work on.
"We've been bad at taking care of the ball, to be honest with you, throughout the course of the year," Ballard said. "We've got to do a better job of valuing the basketball. Most of it is just being strong with the ball and running our stuff offensively."
The Wildcats had Thursday off, but will have an important conference matchup against Evangel at 4 p.m. Saturday in Springfield, Mo.
"We'll finally get two days off in a row, so that will be nice to recuperate," Anderson said. "We still have a long four-day week of practice, so we're going to get ready for Evangel."
Evangel won the first matchup of the season between the two teams 69-53 in Collins Center.