Thursday, February 2, 2012
You and your mom won the contest for the naming of the new Liberal Studies program, and you named it Quest. What did you do with your share of the $1,000?
I paid for my books for the spring semester.
What did your mom do with her share of the money?
I think she's buying a new suit for work. I'm not sure what else she's doing with it.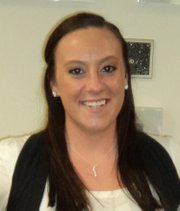 How did you guys split the $1,000?
We split it 80/20, because I kind of, like, added my two cents on to hers. Well, we each contributed a certain number of words, and then whoever's word would've won would get more. But we both came up with the concept of it. So, hers actually ended up winning. But both of us kind of contributed to what the meaning of it was.
So you submitted other ideas for it?
Yeah, the two of us submitted, like, 18 (names).
What were some of your other ideas?
The BU Vision was one. I don't remember all of them. Once Quest won I forgot the rest of them.
How'd you come up with the idea of Quest?
We both kind of had different ideas behind it, and I guess part of mine was, when you come to Baker as a freshman, you have a plan with what you want to do with your life, or maybe you don't. Either way, you have to find a way to get to your ultimate goal. Along the way, you just kind of have this quest towards graduation.
Having won all that money, you must be pretty lucky. Have you ever bought a lottery ticket?
Yeah.
Have you ever won anything?
I won a dollar on a lottery ticket, but the lottery ticket cost a dollar, so I broke even. That's about it.
What would you do with the money if it had been $10,000?
If it would have been $10,000, I probably would've saved most of it and probably fix up my car a little bit. It's having some engine trouble.
What do you like to do for fun that you won't have to spend the money you won on?
I don't have a lot of free time, but when I do have free time, I like to kind of just hang out at home and watch TV.