Thursday, February 9, 2012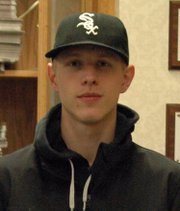 Audio clip
1-on-1 with Todd Eils
This is your first season as a member of the Baker University men's basketball team. With a number of other players who also transferred into the program at the beginning of this season, what has the team done well to have a successful season up to this point?
Most people would think that it would be a lot of on the court stuff, but we've done a lot off the court to really jell as a team and become a family. I think that has helped us during the game and during practice and everything.
After spending two years playing with the Ichabods of Washburn University, what has been the biggest difference between playing at the NCAA Division II level and the NAIA?
The talent level is obviously a little bit lower, but the teams in the NAIA play harder than what Division II does.
With head coach Brett Ballard sometimes choosing to play a 10 or 11 man rotation, how important is it to be unselfish and be comfortable playing with all of your teammates?
It's a big deal. You've got to play in your roles and how you fit into the team and know that each person can contribute just as much as you can.
The team is in the middle of a tight race for a regular season conference championship with only a handful of games to play. What are your expectations for the remainder of the regular season and the conference tournament?
We want to win out. That is what we want to do. Hopefully we'll get a home playoff game for the conference tournament and then make it to Kansas City for the national tournament.