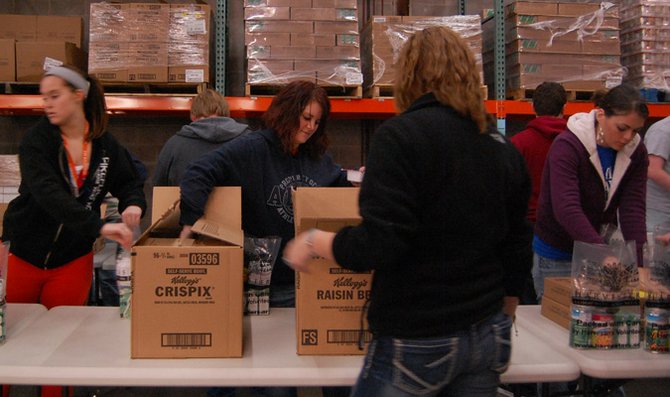 Thursday, February 9, 2012
Related Story
Even though the typical season of giving is over, some Baker University students continue to volunteer their time.
Nine students traveled to Harvesters, a volunteer outreach center, Saturday in Topeka to take part in the Souper Bowl Weekend of Caring.
"It was a national weekend of service, specifically on combating hunger, across the nation where people were encouraged to get out and volunteer on the Super Bowl weekend," Brett Bruner, director of student life, said.
Harvesters provides struggling families in Kansas and Missouri with meals and hope.
Harvesters mission is to help people realize how close the problem of hunger is to them.
On Saturday, the Baker students focused primarily on children as they assisted in the BackSnacks program, which supplies meals to students over the weekend.
"The program is for youth whose next meal after school lunch on Friday might not be until school breakfast on Monday," Bruner said.
The volunteer shifts are three hours long and aside from a short video and tour of the facilities, the volunteers packaged meals the entire time.
"This past weekend, we made 2,145 BackSnacks which will be able to service Northeast Kansas children for three straight weekends," Bruner said. "That's the most any group I've taken has packaged and I think it put it into perspective what we were able to accomplish in that three hours."
Freshman Peyton Edmonds, one of the students who volunteered, said she has done similar community service projects at home and knows the effects it can have.
"You're going for three hours straight so it's really tiring, but you know it's helping a lot so it's worth it," Edmonds said.

Dean of Students Cassy Bailey accompanied the group to Harvesters and said she and her family were making a commitment to go one weekend out of every month.
"It's fun for the children because there's an activity involved and there's hands on learning," Bailey said. "There's also a clear link because Harvesters does so much for children."
Bruner also said his goal was to be able to take students on a monthly basis to volunteer their time at Harvesters.
While the event was open to all Baker students, the group that went on Saturday included only freshmen.
"In some ways it doesn't surprise me the group was all freshmen because I think we've exposed them to more service than other classes," Bailey said.