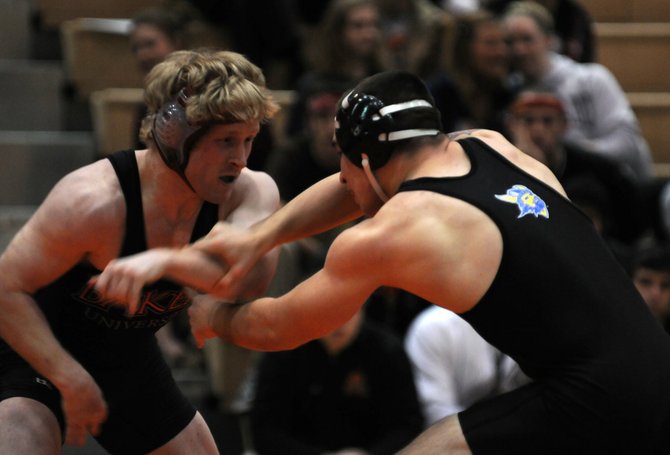 Thursday, February 9, 2012
Photo Gallery
Baker Wrestling Senior Night Dual vs. Bethany College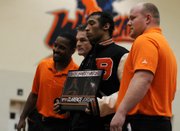 It was Senior Night Wednesday in Baker University's first ever dual against a Kansas NAIA program. Baker won 31-9 with seniors Clarence Jordan and Jarell Price both winning in their respective matches.
After losing a hard fought dual against No. 5 Oklahoma City University 18-15 Feb. 1 in Collins Center, the No. 10 Baker University wrestling team defeated Bethany College 31-9 on Senior Night Wednesday.
Senior Jarell Price started off the night strong with a 15-4 major decision victory over Bethany's Steven Scott.
Clarence Jordan was the only other senior who wrestled in the dual for BU and he also got a win in his final match in Collins Center.
The Wildcats controlled the match from the get-go and sealed the win with pins from juniors Brandon Gebhardt and Jacob Nowak.
BU also had some strong performances at two different tournaments over the weekend.
Three wrestlers traveled to the Briar Cliff Open Saturday in Sioux City, Iowa to try to qualify for the national tournament. Freshman Robert Shadrach and sophomore Alan Callahan were able to do so by placing second in their respective weight classes. Shadrach also upset the No. 6-ranked wrestler in the nation in the 184-pound weight class.
"It was a really big booster, especially after making it to the finals after coming off an injury from last year and being off a year," Callahan said. "Wrestling the way I used to wrestle definitely felt really good."
Baker also took 20 wrestlers to the Missouri Valley College Open Sunday in Marshall, Mo. The Wildcats were led by junior Jarid Price who placed third in the 174-pound weight class and sophomore Joel Olivas and freshman Nick Haugen who placed fourth in their respective weight classes.
"I was really impressed with Jarid Price," Olivas said. "They forgot to put him on the front side of the bracket and after realizing that, they weren't going to put him in the tournament, but after awhile they let him wrestle. He had to wrestle the back side, which is the loser's side, but he climbed all the way up to third. If the tournament wouldn't have screwed up, he probably would've took the tournament."
The dual against Bethany was the last competition for the Wildcats before the NAIA Central Region Championships Feb. 17 in Des Moines, Iowa.
After the regional tournament, BU will have two weeks off before competing in the NAIA National Championships, which will also take place in Des Moines, Iowa.
"I think we'll actually do pretty good," Callahan said. "It's one of the tougher regionals, so it will (kind of resemble) what nationals will be like because most of the top teams are in our region. I think we have a good group of guys and we can do some damage up there at regionals, so hopefully we can get one of the top spots."
Heading into the regional tournament, 27 Wildcats have qualified for the national championships, but head coach Jimmy May will only be able to take 12 of the 27 qualifiers.
"In some cases we might have to do some wrestling off to determine who we take," May said. "A lot of kids want to go and a lot of them deserve to go. We have seven or eight kids that we know that we are taking no matter what."