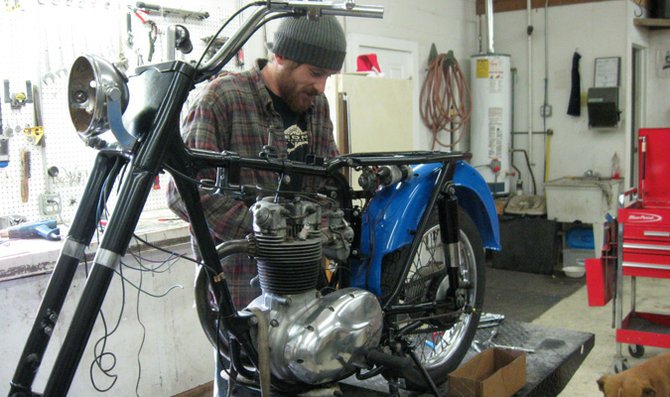 Thursday, February 9, 2012
A former software developer for Sprint and a certified Harley-Davidson mechanic decided to drop their jobs to follow their passion. They put on their work gloves, went picking for supplies and started putting together old motorcycles, starting a company they call Barnyard Scraps Restoration in Baldwin City.
Shawn Carlisle, 30, and his brother-in-law Micah Tracy, 27, have always worked on repairing old cars and motorcycles in their free time. Barnyard Scraps Restoration started in December 2010 and has sold motorcycles on Craigslist and eBay.
After attaining a dealer's license in early October, they plan on selling restored cars as well as motorcycles. The new license permits them to own more titles to cars, operating more like a car dealership. Unlike a dealership, Carlisle and Tracy feel a connection to their motorcycles.
"We don't charge the high-end price because we're more interested in getting old vehicles back on the road," Carlisle said.
For supplies, Tracy and Carlisle go picking, where they dig through old barns and sheds from Indiana to Kentucky, looking for anything to help with their latest restoration project. They look on Craigslist for cheap parts and use friends to hear about potential sellers.
Carlisle calls himself the computer nerd of the company, having specialized as a software developer. That doesn't stop him from working on the vehicles with Tracy, though. Carlisle estimates the two of them put 80 hours of work into their garage a week.
"It's what I do, all day every day," Carlisle said.
Tracy graduated from the Motorcycle Mechanics Institute in Phoenix. He earned his Harley-Davidson certification, which authorizes him to work on Harley-Davidson vehicles. His graduation from MMI certifies him as a motorcycle technician. Tracy used to work at a car dealership in Phoenix, but he didn't like the corporate side of selling cars, so he moved into custom work.
"We never worked on the cars (at the dealership)," Tracy said. "We would sell them and that was the end."
At his former job in Evansville, Ind., Tracy never went picking and focused more on working on other people's bikes. Now, he creates as well as repairs. While Carlisle handles the business end, Tracy gets to "just wrench" in their workshop. Tracy grew up fixing cars and motorcycles with his dad and has always enjoyed the ambiance of his hobby.
"It's taking something with history behind it and putting it back on the road," Tracy said.
Tracy moved from Evansville to Gardner to be closer to his family. Many of his contacts from the custom shop in Evansville stay updated on Barnyard Scraps Restoration through the company's Facebook page. Vernon Thompson from Evansville used to work with Tracy.
"It's good to see him doing his own thing now," Thompson said.
The brothers-in-law picked Baldwin as their workshop location for its proximity to other larger cities. They started in Carlisle's garage, and are now leasing out a workshop off High Street.
"Baldwin just seems like a little hot rod town," Tracy said. "There are lots of old-timers into their own cars and everyone's restoring something."