Thursday, February 16, 2012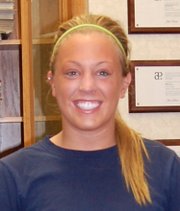 Audio clip
1-on-1 with Erin Greenwood
Related Story
You recorded the Baker University softball team's first win of the season in the second game of the doubleheader with Ottawa University Feb. 9. How pleased were you with your first start of the season?
I was pretty pleased with everyone's performance. We all were just pretty ready to start playing against everybody and finally get outside and start playing games. Everyone played pretty well our first time out.
While you started off the season strong on the mound, you also had success at the plate by going 2-5 with four runs scored and a RBI in the first two games. Which do you like better? Pitching or hitting?
I really like both. When I'm pitching, I mean, I love pitching. I would pitch all the time if I could, but when I hit, like, I always enjoy hitting. If I couldn't hit, that would just not be as exciting.
The team is coming off its best season in school history setting a record in wins with 31. How high are the expectations this year just based off of last year's success?
I think we all are really excited for this season because we did set a school record for last year. We have some new players that came in, so we're just looking to move forward from there.
Central Methodist University was picked first in the Heart of America Athletic Conference Preseason Coaches' Poll with Evangel University and Baker coming in at a close second and third. How good of a chance do you think the team has to win the conference this season?
I mean, last year, we were really close. All of the teams were close in the running for rankings and everything in conference. I think it could really be anybody's thing this year. We just all have to play and see what happens.