Thursday, February 16, 2012
Photo Gallery
Men's Basketball vs. Peru State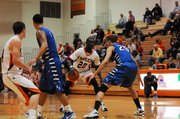 Baker University beat conference opponent Peru State College 91-71.
Junior Ben Steinlage played his best game of the season when the Baker University men's basketball team needed it most in BU's 63-52 win over Culver-Stockton College Saturday.
"He's played great this past week and has been really consistent for us," head coach Brett Ballard said. "We've got to do an even better job of making sure we get him touches and looks because he is playing at a high level and I'm happy for him. He works hard and gives great effort."
Steinlage had a season-high 26 points and 10 rebounds against Culver-Stockton for his first double-double since he joined the program.
His performance was good enough to earn the award for the Heart of America Athletic Conference Player of the Week.
"It always means a lot to get recognized by anybody," Steinlage said. "It goes back to my teammates, too. We all played well. There are some certain things we still need to clean up, I guess, but it all sort of reflects back on them, too."
The rest of the team combined to shoot 15 for 43 from the field with senior Jack Shortell being the only other Baker Wildcat to score in double figures with 10 points.
While BU wasn't able to get many shots to fall after building a 39-20 halftime lead, Baker cut down its number of turnovers from previous games to make sure the outcome was never in doubt.
"It was encouraging that we didn't turn it over as much," Ballard said. "You know, we're going to turn it over some, but we've got to cut those down. We're shooting a pretty high percentage when we get a shot, so when you don't turn the ball over and get a shot, we're shooting at a pretty high clip."
BU had turned the ball over 20 or more times in the previous five games, but only committed 13 turnovers against CSC Saturday.
After improving to 17-8 overall and 10-4 in the Heart of America Athletic Conference, Baker was scheduled for a matchup with first place MidAmerica Nazarene University Thursday in Collins Center, but results were not available at presstime.
The Wildcats have three games remaining before the HAAC Postseason Tournament and would be the No. 3 seed if the tournament began today.
The 'Cats will host Graceland University at 4 p.m. Saturday in Collins Center. Baker will attempt to avenge its 72-66 loss to the Yellowjackets in the first matchup between the teams this season.
"As far as Graceland goes, they beat us the first time and it was a tough game," junior Jordan Honore said. "We played hard, but there were a couple of little things we could have cleaned up to beat that team."