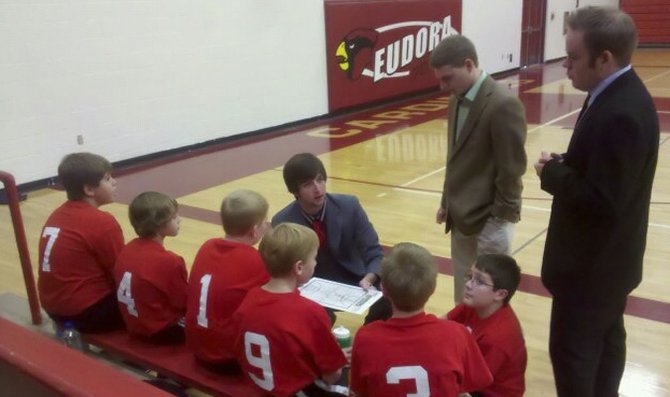 Thursday, February 16, 2012
Most college men will wear a suit and tie to a job interview, but what about to a children's basketball game?
Juniors Paul Eltschinger, Jordan Toothaker and Morgan James and sophomore Andy Kelley have been volunteering their time to coach a fifth and sixth grade boys' basketball team, the Red Raiders.
Not only do they coach the team, but they show up to coach the Saturday morning games dressed in their suits and ties.
"We're taking recreational basketball to a whole new level," head coach Eltschinger said.
This is Eltschinger's second year coaching the team but this year he asked Toothaker, James and Kelley to assist him.
"I taught golf to a few kids and they asked me if I wanted to be their basketball coach," Eltschinger said. "Then I just thought it'd be more fun if there were more of us coaching."
Janelle Johnston, parent to one of the boys on the team, said her son really loves being coached by Eltschinger, Toothaker, James and Kelley.
"I think the kids really respond to them simply because they're not parents," Johnston said. "I think they have a lot of fun coaching, too."
Jennifer Letner, fraternity and sorority life coordinator, coaches her son's team which is in the same league as the Raiders.
"I think it's a great way for them to get involved in the community," Letner said. "I have friends with kids on that team and the parents think it's so cool college students will take the time to do something like this."
The team practices twice a week and plays its games on Saturdays in Baldwin and nearby towns. They also play against teams from nearby towns, including Wellsville and Eudora.
The coaches have also given their players workouts to do on their own throughout the week to prepare for the games.
"I think our team is a lot better than when we started," Kelley said. "We're pretty proud of them."
The Raiders won their game Saturday at the Baldwin Primary Center against a Wellsville team which, like most of the other teams in the league, is coached by parents.
The Raiders' coaches could barely contain themselves on the bench, jumping up and yelling suggestions to their team.
After the game, Toothaker, Kelley and James joked that the day was a success just because none of them were ejected from the game.
"I get more into the games I coach than I did when I was actually playing," Toothaker said.
The Raiders say they are feeling good coming off the win from Saturday.
They are scheduled to play Letner's team Saturday at the Baldwin Primary Center.
"We're gonna kill 'em," Eltschinger joked.
Letner said she's looking forward to the game and it should be a throw down.
"I told my husband we would have to dress up for the game, too," Letner said. "They make us look bad when they wear suits and we're in sweats."