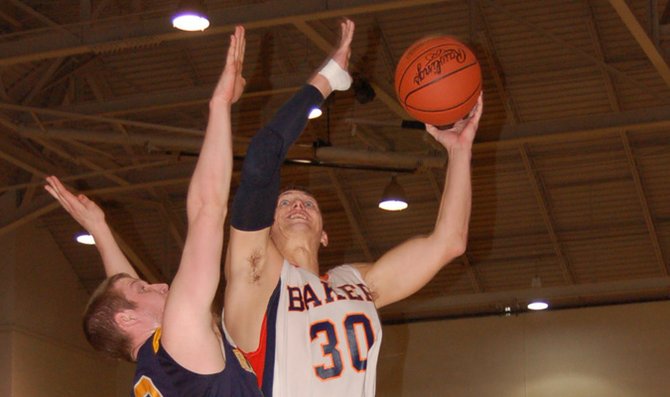 Thursday, February 23, 2012
After a 71-67 win over No. 21 MidAmerica Nazarene University Feb. 16 in Collins Center, the Baker University men's basketball team was unable to keep momentum against Graceland University Feb 18.
The Yellowjackets came into Collins Center and exited with a victory for the third year in a row as they defeated the Wildcats 70-62.
Head coach Brett Ballard was pleased with the effort his team gave against MNU and thought his team "played terrific in stretches," but he did not think the Wildcats came out with the same intensity level against the Yellowjackets.
"Well, I thought we came out flat against Graceland," Ballard said. "We didn't have
as much energy as we did on Thursday. That was the biggest difference."
In the Wildcats' win over the Pioneers, BU took the lead just after the opening tip and never relinquished it.
The win for the Wildcats was the second in a row against the Pioneers in Collins Center and a very special one for senior Joe Wachter.
"It feels good to go out with a win against your rival," Wachter said, "especially here at home. It makes it that much more special."
Wachter ended the contest with 12 points and joined junior Ben Steinlage as the only other Wildcat in double figures. For the second consecutive game, Steinlage recorded a double-double with 18 points and 10 rebounds.
"Ben has been a tough player down low, especially for these past four or five games," Wachter said. "He has played great. Coach always tells us to play inside out because it is tough to stop him."
Baker was 18-9 overall and 11-5 in the Heart of America Athletic Conference going into Thursday's scheduled game against Benedictine College.
BU will play its final regular season game against Central Methodist University at 4 p.m. Feb. 25 in Collins Center.
The game against the Eagles will also be Senior Day for Wachter, Jack Shortell, Ryan Douvier, Connor Bechard and Tim Randolph.
"It is a really important deal and a special day," Ballard said. "Those guys have given a lot to this program, so we certainly want to go out and take care of business and play the right way for them. They deserve it and it should be a fun day for them."
As of Feb. 22, the Wildcats would be the No. 3 seed in the HAAC Postseason Tournament. With a win against Benedictine or Central Methodist, BU would clinch the No. 3 seed and host a first round game in the tournament.
"You know, we really just want to win out," freshman Brandon Moore said. "We control our destiny. It's really important that we win these two games so we can seal third place in the HAAC."