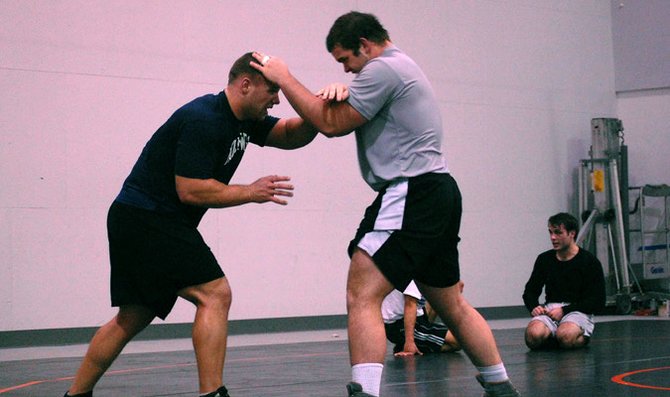 Thursday, February 23, 2012
Baker University head wrestling coach Jimmy May knew his team would see some of the toughest competition of the season at the NAIA Central Regional Championships Saturday in Des Moines, Iowa, but BU rose to the occasion.
Baker placed fourth in what May considered to be the toughest regional tournament in the nation.
"In the three years we have been a program, this was by far the toughest Central Regional that we have been a part of," May said. "It was very competitive with a lot of good teams."
The No. 7 Wildcats were one of six nationally-ranked teams at the regional, which included No. 1 Grand View University, No. 5 Oklahoma City University, No. 12 Missouri Valley College, No. 17 William Penn University and No. 19 Waldorf College.
BU was led by junior Jarid Price, who won the 184-pound weight class. Price became the first Wildcat to win a regional championship in the program's history.
"That makes me feel pretty good," Price said. "I've never really won a big tournament like that in my life, so that was a really big win for me. It was probably the biggest one of my career."
Of the 12 wrestlers who competed in the tournament, eight Wildcats placed in the top four of their weight class and three made it all the way to the championship matches.
"It was pretty big considering we're still a pretty young program," senior Dylan Berg said. "To have that many wrestlers seed in our region for the national tournament is pretty spectacular, I think."
The 'Cats will return to Des Moines for the NAIA National Championships March 1-3, but May will still only be able to take 12 wrestlers with him even though 26 have qualified.
Baker finished 16th at the national championships last year. Graduate Assistant Levi Calhoun and senior Jarell Price became Baker's first All-American wrestlers last year by placing in the top eight of their respective weight classes. Berg is hoping that the list of All-Americans will grow after this year's national tournament.
"I think the opportunity is there for us to have a handful of All-Americans," Berg said. "There are a lot of kids ... just about everybody on the lineup card at nationals has the potential to be an All-American."